Attention!
The sale of the product has been completed. Check others in thiscategory.
Description
2.2" LCD TFT graphic display with 240 x 320 px resolution. It works with a voltage of 3.3 V and communicates via the SPI bus. Additionally, the board has a microSD memory card reader. The device uses SPI bus outputs (CS, D/C, SCK, SDi, RESET).
Attention!
The system operates with voltage of 3.3 V. In order to connect with Arduino, avoltage converteror resistor divider is required.
Specification
Diagonal of the screen: 2.2 inches
Resolution: 240 x 320 px
The tension of work: 3,3 V
MicroSD memory card slot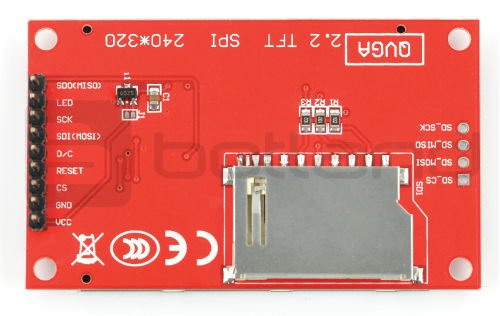 Exits
The system has goldpin standard leads - 2.54 mm raster with solder pins. All the leads work with a voltage of 3.3V, giving 5V can permanently damage the system.
| Pin | Description |
| --- | --- |
| SDO | The SPI bus line. |
| LED | 3.3 V backlight power supply. |
| SCK | SPI bus clock line. |
| SDI | SPI bus data line. |
| D/C | Selection of display instruction register (low state) or data register (high). |
| RESET | Reset activated in a low state. |
| CS | Chip selection activated in a low state. |
| GND | The weight. |
| VCC | Power supply 3.3 V. |
Video guide