Description
Module based on G7020 chip. It operates at 5 Hz on 50 channels with an accuracy of 0.5 m. It has a built-in ceramic antenna and magnet. It works with voltage from 3,3 V to 5 V. Designed to work with Arduino tiles.
Product compatible with Arduino
The manufacturer provides auser guide, together with examples for Arduino.
Connection
The device has wires with female terminals. It communicates through a serial interface - RX and TX lines. It works with a frequency of 5 Hz. Outputs distribution:
Black wire - RxD serial interface receiver
White cable - TxD serial interface transmitter
Red wire - VCC power supply
Black wire in insulation with inscriptions - ground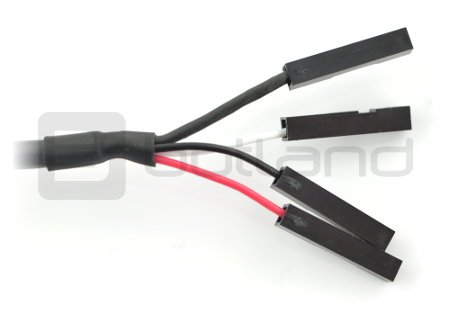 Cables are terminated with female connectors, raster 2.54 mm - matched togoldpin connectors.
Specification
Layout: G7020
Supply voltage: 3.3 V to 5 V
Current consumption: approx. 40 mA for 3.3 V
Communication: UART interface at up to 38400 bps
Affection: -161 dBm
50-channel receiver
Accuracy: approx. 2.5 m
Hot start: 1 s
Warm start: 32 sec
Cold start: 32 sec
Operating temperature: -40 °C to 85 °C
Dimensions: 45 x 45 x 5 mm
Cable length: approx. 40 cm