Attention!
The product has been discontinued. Check other products in category.
Description
A starter kit containing a board Touch Board compatible with the Arduino, instruction in English and a paint conducting the electric current, together with accessories for its application. On board is a controller of touch buttons, slot for  microSD memory cards and MIDI VS1053B and mp3 player,and Li-pol charger. The system can be programmed via the Arduino IDE.
Main features of the Touch Board
The device is compatible withArduino Leonardowith an installed bootloader
It has the Atmega32u4 microcontroller with 32KB of Flash memory, 2.5 KB SRAM
Equipped with 20 digital pins and 12 analog inputs
The board can be programmed viathe Arduino IDE with the installed plug
The microUSB slot supports programming viacable(not included, sold separately).
The distribution of connectors is compatible withArduino Shields(connectors sold separately and for self-soldering)
The built-in module allows for charging the LiPol battery of 3.7 V
System VLSI VS1053B (documentation) for playing MP3 and MIDI files
The set has a memory card that fits in a dedicated microSD slot
Jack 3,5 mm connector for headphones
The Freescale MPR121 driver (documentation) allows you to connect 12 touch buttons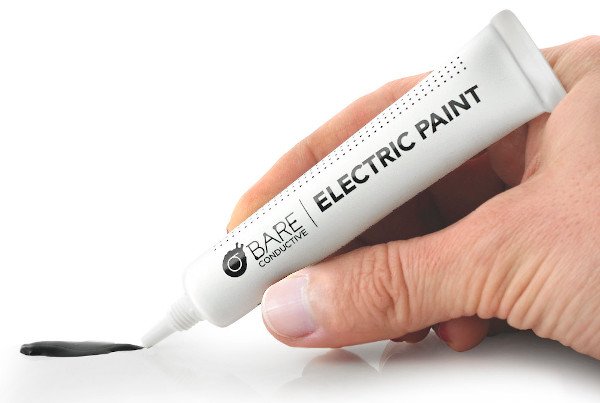 The main characteristics of the conductive paint
Paint dries within 10 - 15 minutes at room temperature
The painted surface must be completely dry
The paint can be removed with soap and water
Drawn paths can be protected using acrylic paint or varnish in spray
The paint life is a few years - provided that the surface is dry
Works with: paper, wood, cardboard, plastic, glass, fabrics and many other materials
Paint provides a connection of electronic elements such asLEDswiththe resistors and repair of the PCB
The substance can be used to connect the so-callede-materials,conducting the electric current
The surface resistance is about 55 Ω2 for track with a thickness of 50 µm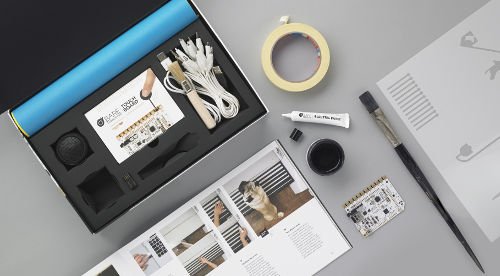 Buttons can be also drawn by paint conducting the current, which is in the set.
The contents of the set
L. p.
Name

The 

amount

1
Touch Board.
1
2
The conductive paint in tube 10 ml.
1
3
The conductive paint in a jar of 50 ml.
1
4
User manual in English.
1
5
Memory microSD

card - 

128 MB.
1
6
A

microSD 

card reader.
1
7
The microUSB cable.
1
8
Mini speaker.
1
9
The microSD card.
1
10
Wires with crocodile connectors.
1
11
A brush for applying the paint.
1
12
Round templates.
12
13
Self-adhesive

templates

.
3
14
Paper

templates

.
2