Attention!
The product has been discontinued. Check other products in category.
Product description: Mean Well MDR-10-24 power supply for DIN rail - 24V / 0,42A / 10W
Power supply mounted on a DIN rail. Input voltage: up to 85 V to 264 V AC and from 120 V to 370 V DC. Output voltage is 24 V. Output current up to 0.42 A.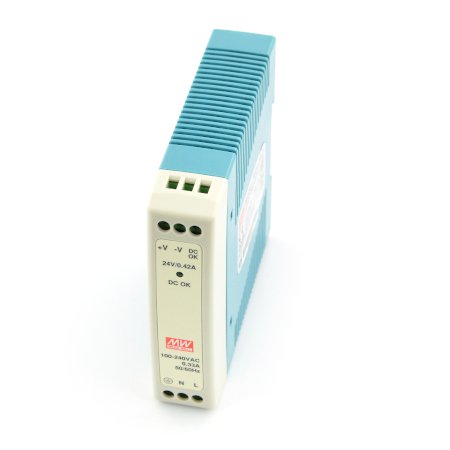 Mean Well MDR-10-24 DIN rail-mounted power supply.
Specification .
Power supply voltage:

AC from 85 V to 264 V
120 V to 370 V

Type: impulse
Output voltage: DC 24 V
Output current: 0,42 A
Power: 10 W
Efficiency: over 80 %
DIN rail-mounted
Screw connections
Signalling correct output voltage: NO contact
Dimensions: 22.5 x 90 x 100 mm
Weight: 170 g
Details in thedocumentation.