Attention!
The product has been discontinued. Check other products in category.
Product description: HPCB 5:1 6 V motor, double-sided shaft - Polol 3082
Polol's small, lightweight yet powerful engines are used as drive units by robot constructors. The units can be supplied with voltage up to 9 V, the useful power is above 3 V. The optimum voltage at which the power to strength ratio is best is 6 V. This version has an extended shaft with a length of 5.0 mm, allowing the installation ofspeed sensors - encoders.
This version has carbon brushes with increased strength and a shaft on both sides for mountingthe encoders.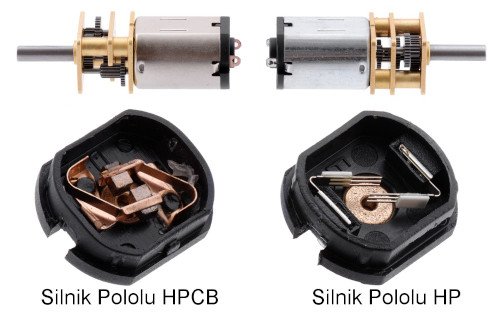 Motor dimensions
The motor body is a 26 x 12 x 10 mm cuboid. The gearbox is 9,27 mm long. There is a 3 mm D-shaped shaft at the output. Total weight is about 9,5 g.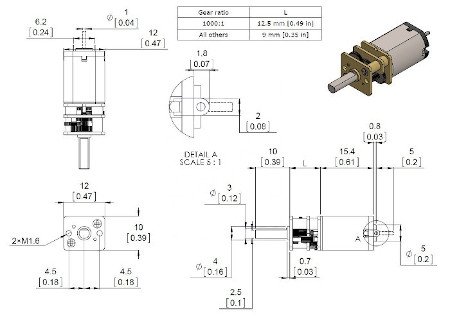 The drawing shows the dimensions of the Polol micro motor with gearbox.
Accessories
We offer a range of accessories that work with Polol's micro motors:
Mountings
Special mountings in whiteorblack have been designed for mounting motors.There is also anextendedversion available and made ofaluminum withincreased strength.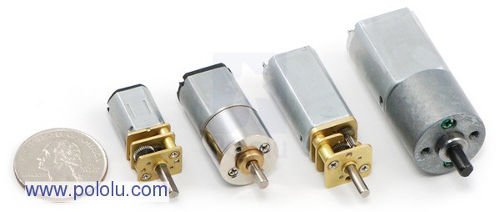 There are also many othermotorsin the shop's offer.
Specification
| | |
| --- | --- |
| Power supply voltage: | 3 V - 9 V |
| Unloaded current (6 V): | 120 mA |
| Current at stopped shaft (6 V): | 1600 mA |
| Speed without load (6 V): | 6000 rpm |
| Torque (6 V): | 0.1 kg*cm (0.01 Nm) |
| Gear ratio: | 4:995:1 |
| Brushes: | Carbon brushes, high strength |
| Shaft diameter: | 3 mm |
| Body dimensions: | 26 x 12 x 10 mm |
| The weight: | 9,5 g |
| Two-sided shaft: | YES |