Attention!
The product has been discontinued. Check other products in category.
Description: Touch screen resistive LCD TFT 2,4'' 320x240px GPIO 4DPi-24-HAT for Raspberry Pi
Touch screen, resistive 2,4" for the Raspberry Pi with a resolution of 320 x 240 px. It works with any 40-pin version of the Raspberry Pi via the GPIO pins - as an extension for the minicomputer.
The device communicates through GPIO pins - as an extension for the minicomputer.

Connect to the Raspberry Pi
In order to run the screen, you need to put a screen on the GPIO pins of the Raspberry Pi.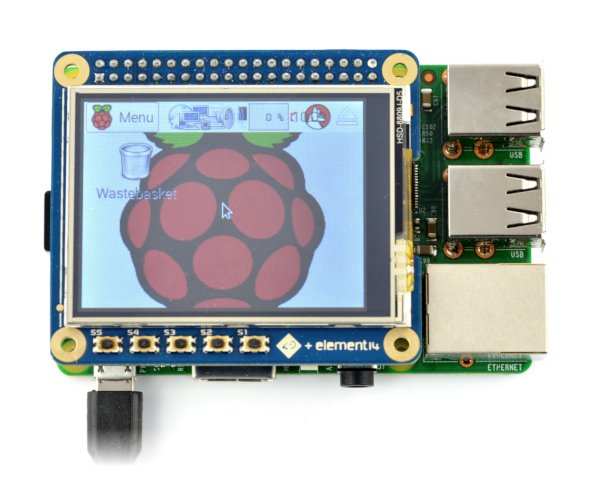 Example of connecting the screen to the Raspberry Pi.
Software
The screen is running with Raspbian. For this purpose, it is necessary to make settings system - to enter multiple commands that are in the instructions. The display communicates with the Raspberry at a speed of 48 MHz for the SPI channel, which uses the CPU for direct interpretation and compression commands.
A detailed description of the connections and driver installation, without changes to the system the Raspberry Pi can be found inthe user's guide.
Specification of Touch screen resistive LCD TFT 2,4'' 320x240px GPIO 4DPi-24-HAT for Raspberry Pi
2.4 " 320 x 240 px touch screen
Connector: 40 pin GPIO
Displays the full picture, as the monitor is connected to HDMI
SPI communication 48 MHz with compression technology for SPI
Works with the Raspberry without needing additional power
A typical image rate: 25 frames/sec
Backlight control: On/Off or PWM selectable through a jumper
Built-in EEPROM ID
4 mounting holes diameter 2.7 mm
Module dimensions: 56.5 x 14.2 mm 65x
Screen dimensions: 49 x 36.7 mm
Weight: 30 g