Description
The module allows for easy solderable connection of the ESP8266 WiFi chip to the contact board. It has LEDs indicating transmission via UART interface, and resistors forcing a high state on the EN pin (pull-up 10k), and a low state on the GPIO15 pin (via pull-down 10k resistor).
Installed WiFi chip ESP-WROOM-02 works in 802.11 b/g/n WiFi standard at 2.4 GHz. This version is equipped with 6 GPIO outputs, UART interface pins: RX and TX interface pins. It has a built-in LED and PCB antenna. PCB dimensions are 50 x 22 mm.
Specification
Supply voltage: 3.0 V to 3.6 V
The voltage of the leads: 3,3 V
Mounted chip: ESP-WROOM-02(documentation)
Standard: WiFi 802.11 b/g/n
Operates at 2.4 GHz
Supports WPA / WPA2 security
Can operate in AP (Access Point), STA (standalone) and AP+STA mode
Supports AT commands
Communication: UART (Rx, Tx)
Default UART speed: 115200 bps
Installation of SMD or THT
Raster of exits: 2.54 mm (compatible with contact plates)
It is equipped with communication interfaces: HSPI, UART, I2C, I2S
Lua software support
Plate dimensions: 50 x 22 mm
Exits
The module has holes for solder 2.54 mm goldpin raster connectors, which are included in the kit. The board is adapted to the connectors of popular contact plates.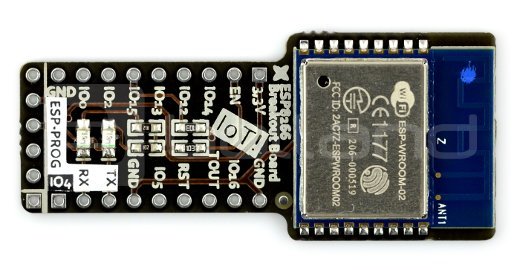 Pin
Description
TxD
UART serial interface transmitter.
RxD
UART serial interface receiver.
IOx
GPIO output (digital input/output) with a consecutive number.
GPIO 0
GPIO with special function:


To update, enter low state (connect to GND).

GPIO 15

GPIO No. 15 with special function:

In the normal and programming mode, the low state must be specified (connect to GND).

ADC
Analogue-to-digital converter input.
REST
Reset the system.
EN
Power down - when you enter a low state, you go into sleep mode.
VCC
Power supply - 3.3 V.