Attention!
The product has been discontinued. Check other products incategory.
Description of Odroid C2 - Amlogic S905 Quad-Core 1.5GHz + 2GB RAM
Minicomputer Odroid, version C2 with an efficient processor Amlogicquad-core 64-bitARM-8Cortex-A53 1.5 GHz. Circuit Board has2 GB of RAMDDR3, built-in Ethernet port, an HDMI port 2.0 4K/60 Hz and four USB ports, 40 GPIO, connectors for memory card microSD, and the IR receiver. Works with theUbuntu 16.04, orAndroid 5.1 Lollipop.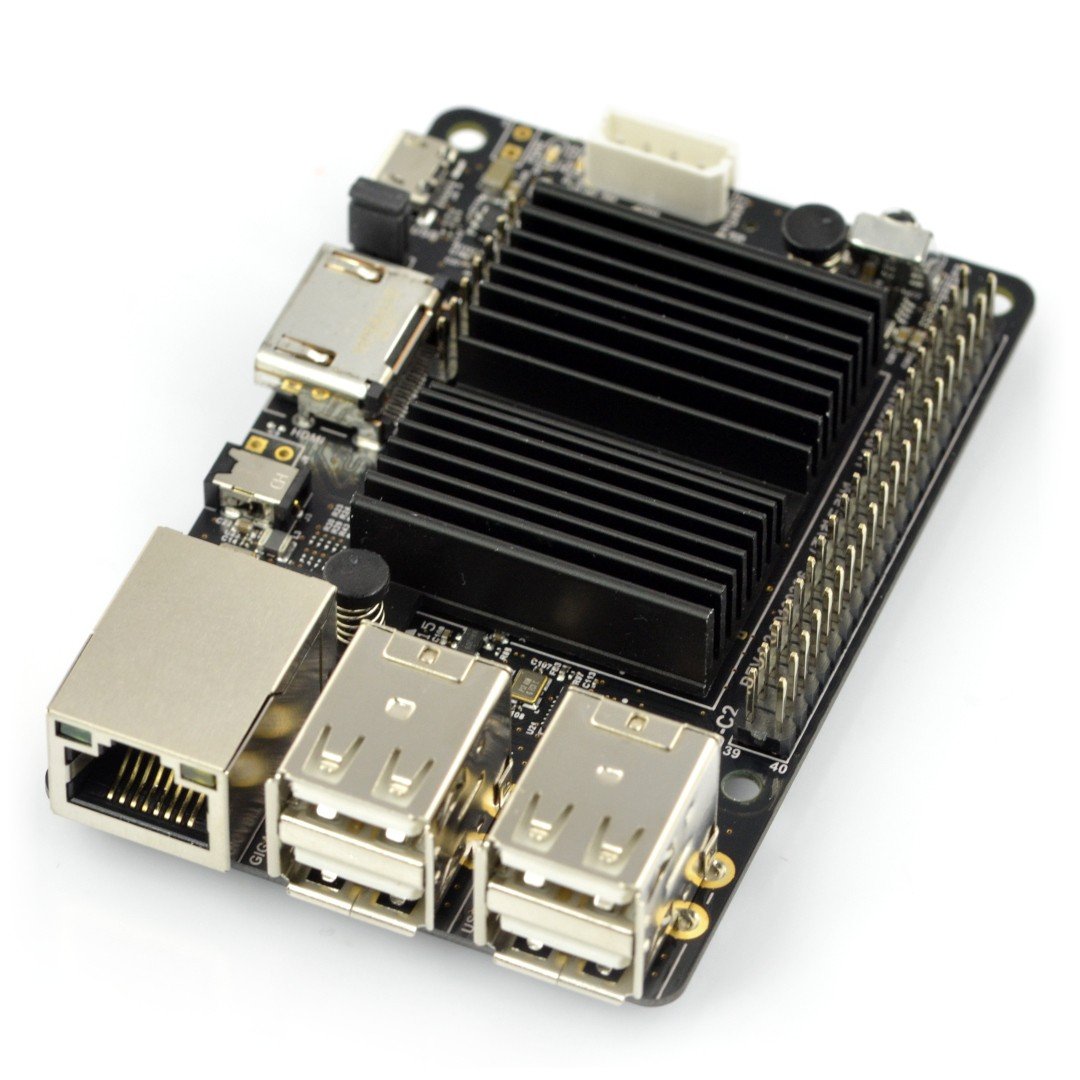 What it takes to run minicomputer Odroid?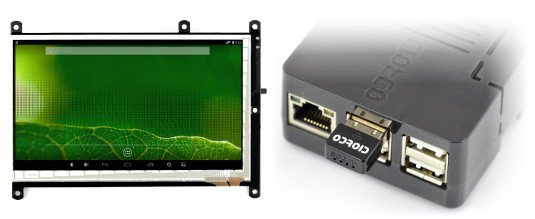 In our store are also availableoptional accessories- - type of wi-fi card,touchscreen display, orthe module USB 3.0 - SATA
Operating system
Odroid C2 works with Ubuntu 16.04 and Android 5.1, which is based on kernel 3.14 LTS. The drive of device may be a microSD card or a Flash memory eMMC 5.0 HS400.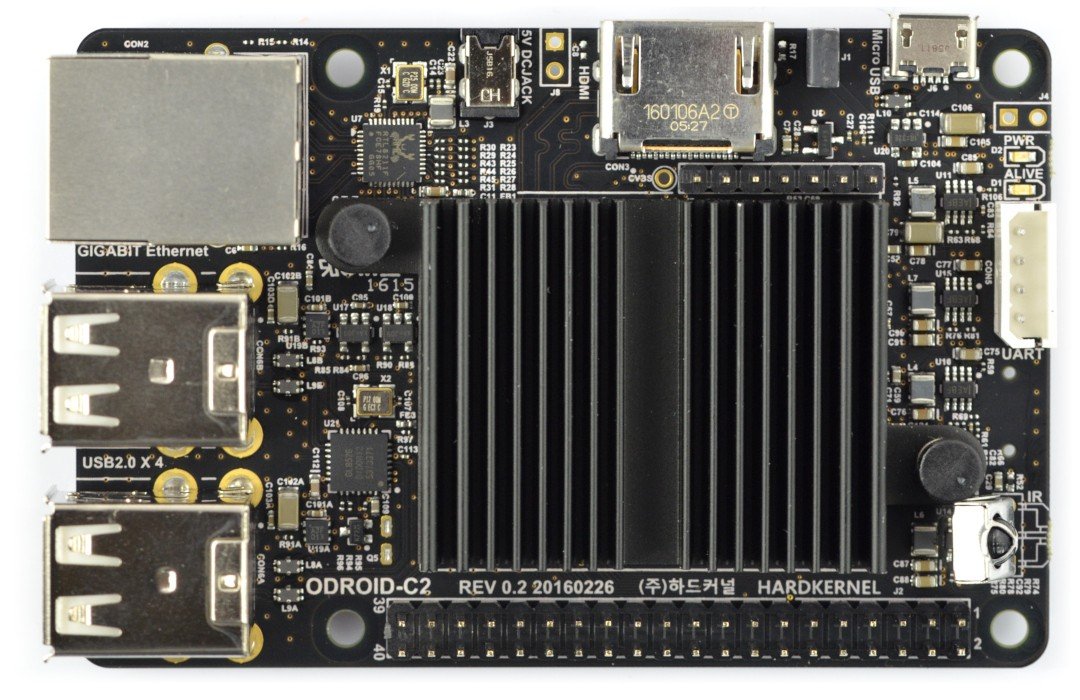 Package includes mounted radiator.
Communication
Odroid has the basic communication interfaces, which can be found in office computers of PC class. In addition to the previously listed connectors of audio and video, the user has at his or her disposal:
four USB connectors, to which can be connected, for example, a mouse, a keyboard, a wi-fi card or USB flash drive. If you find that the slots are too short, you can increase their number usingan external USB HUB.
Ethernet socket, that is the ability to directly connect to the network.
GPIO X 40 pin - outputs/inputs with general purpose that can be used to control the LEDs, buttons, drivers, engines. Among them are the pins supporting interfaces: I2C, SPI and UART.
a slot for microSDslot for memory cards microSD, which can be installed with the operating system.
Power
As a power source, the system uses a DC connector Jack. Manufacturer recommends that the voltage indicated on the connector had a value of 5.0 and an output current of the used power supply shall not be less than 2.0 A. In our assortment you will finda specialpower supply.
 Odroid C2 has aHDMI port, through which you can send image and sound, both in 4k.
Cases
In our assortment you will findspecial housings that protects minicomputer Odroid from the external conditions. Special power supplies are also available.
Specifications and comparison
Basic information

 
Model
Odroid C0
Odroid C1+
Odroid C2
Odroid XU4
Specification

Processor
Amlogic S805
Amlogic S805
Amlogic S905
Samsung Exynos5422
The core

Quad-Core 32-bit

ARM Cortex A5

Quad-Core 32-bit

ARM Cortex A5

Quad-Core 64-bit

ARM Cortex-A53

Octa-Core

ARM Cortex-A15

ARM Cortex™-A7

Graphics

ARM Mali 450MP

OpenGL ES

2.0/1.1

ARM Mali 450MP

OpenGL ES

2.0/1.1

ARM Mali 450MP

OpenGL ES

2.0/1.1

3D Mali-T628 MP6

OpenGL ES

3.0/2.0/1.1

Systems

Ubuntu 14.04

Android 4.4

Kernel 3.10 LTS

Ubuntu 14.04

Android 4.4

Kernel 3.10 LTS

Ubuntu 16.04

Android 5.1

Kernel 3.14 LTS

Ubuntu 15.04

Android 4.4.2

Kernel 3.10 LTS

Clock frequency
1.5 GHz
1.5 GHz
1.5 GHz
2 GHz / 1.4 GHz
Architecture
ARMv7
ARMv7
ARMv8
ARMv7
RAM

1 GB DDR3

SDRAM

1 GB DDR3

SDRAM 792MHz

2 GB DDR3

SDRAM 792Mhz

2 GB LPDDR3

RAM 750Mhz
Memory

microSD memory card

UHS1

eMMC4.5 HS200

microSD memory card

UHS1 up to 16 GB

eMMC4.5

microSD memory card

UHS1 with capacity up to 128 GB

eMMC5.0

microSD memory card

The UHS1 up to 64 GB

eMMC5.0
Connector GPIO

Connector 40-pin

+ 7-pin I2S

(must be soldered)

Connector 40-pin

+ 7-pin I2S

Connector 40-pin

+ 7-pin I2S

Connector 30-pin

+ 12 pin I2S

raster 2mm

Power

5 V / 2 A

DC Jack

5 V / 2 A

DC Jack

5 V / 2 A

DC Jack

5 V / 4 A

DC 2,5x2,1mm

Tile sizes
58x56x11mm
85x56x18mm
85x56x18mm
82x58x22mm
Interfaces
USB-Host

2 x USB 2.0

(optional

soldering)

4x USB 2.0

connector type a

4x USB 2.0

connector type a

2x USB 3.0

1x USB 2.0

connector type a

USB OTG
-

1x microUSB

1x microUSB
-
Network interface
-

Ethernet

10/100/1000

Mbit/s

Ethernet

10/100/1000

Mbit/s

Ethernet

10/100/1000

Mbit/s

The RTC system
Built-in
Built-in
-
-
Video
HDMI
HDMI
HDMI 2.0 4K/60 Hz
HDMI 1.4 a
Audio

HDMI / I2S

HDMi

HDMI / I2S

HDMI

ADC

Transducer

2 channels

10-bit

2 channels

10-bit

2 channels

10-bit

2 channels

10-bit

Communication

UART, SPI, I2C,

GPIO, ADC

UART, SPI, I2C,

GPIO, ADC

UART, SPI, I2C,

GPIO, ADC

UART, SPI, I2C,

GPIO, ADC