Attention!
The product has been discontinued. Check others products incategory.
Description
Banana Pi M2+ is the minicomputer equipped with 1 GB of RAM, built-in EMMC Flash 8GB memory, processor Allwinner H3 Quad-core Cortex-A7 1.2 GHz and connectors known from Raspberry Pi,  i.a.: 2x USB, microSD slot, HDMI. Board has 40 pins of GPIO and communication interfaces: UART, I2C, SPI. Built-in buttons: Reset, Power, Uboot and the IR receiver are useful in the process of operation of the module.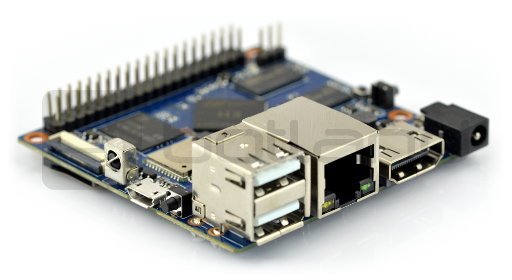 The advantage of Banana Pi M2+ is quad-core processor, built-in wi-fi module, Ethernet port of 10/100/1000 Mbps and Bluetooth BLE, built-in memory built-in 8 GB EMMC memory and compact size of board: 65 x 65 mm. This version does not have SATA port, if you are looking for minicomputer with this bus check outthe other version of Banana Pi.
Specification
Processor: Allwinner H3

Core: ARM Cortex-A7 quad-core,
Clock frequency: 1.2 GHz

RAM memory: 1 GB of DDR3
Built-in memory 8GB EMMC Flash
Graphic: Mali400MP2 GPU @600MHz with the support of OpenGL ES 2.0
Integrated wi-fi b/g/n and Bluetooth 4.0 modules are based on system Ampak AP6212
u.FL slot to connectan external antenna wi-fi
Slot forSD memory card
HDMI 1.4 slot: up to 1080p (audio and video output)
Ethernet port: 10/100/1000 Mbps Ethernet RJ45 based on the chipRealtek RTL8211E
2 USB ports
40 pins of GPIO
Interface for camera connection: CSI for 8-bit YUV42 CMOS 1080p @30fps
Embedded buttons: Power, Reset, Uboot
Built-in IR receiver
Power supply parameters: 5 V / 2 A (in our assortment, available isa special adapter)
Power supply: DC slot of 4.0/1.7 mm
Dimensions: 65 x 65 mm
Weight: 48 g
The picture and sound
Banana Pi has a HDMI connector through which you can send picture and sound. Board has also a CSI connector for connecting the camera with the sensor 8-bit YUV42 CMOS 1080p @30fps.
Operating system
Banana Pi has a built-in EMMC, it also uses a microSD memory card. The operating system can be uploaded via the computer with the reader. Board supports i.a. systems: Ubuntu and Raspbian.
Communication
Banana Pi has basic communication interfaces that can be found in office computers of PC class. In addition to the previously listed connectors of audio and video, the user has at his or her disposal:
Two USB connectors, 

to which can be connected, for example, a mouse, a keyboard, a wi-fi card or USB flash drive. If you find that the slots are too short, you can increase their number using 

an external USB HUB

.

Ethernet slot

,

that is the ability to directly connect to the LAN of 10/100/1000 Mbps.
module wifi 

Banana Pi M2+ has a built-in wi-fi module with connector for 

external antenna

.

40 x GPIO- 

 outputs/inputs with general purpose that can be used to control the LEDs, buttons, drivers of motors. Among them are the pins supporting interfaces: I2C, SPI and UART.

the output on the camera 

connector for 

the designed

 for

 Banana PI, camera 

.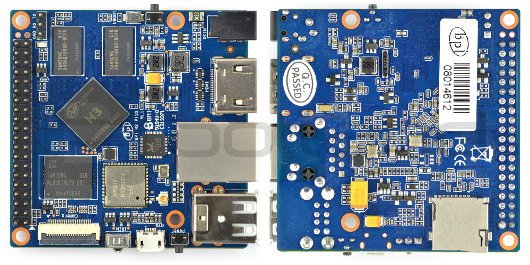 Banana Pi M2+ - top view (left) and bottom view (right).
Power
As a power source, the system uses the DC connector 4.0 / 1.7 mm. Required parameters of power supply are 5 V and 2 A. In our assortment, a special power supply is available.
Accessories
In our offer, you will find alsoHDMI cables,memory cards, micro-usb power supplies andcompatible cases.