Specification

The brand:

Namiki Coreless Motor

A model:

22CL-3501PG

Power supply voltage:

12 V

Non load current (12 V):

60 mA

Current at stopped shaft (12 V):

1800 mA

Speed without load (12 V):

120 rpm

Torque (12 V):

16.5 kg*cm (1.6 Nm)

Gear ratio:

80:1

Shaft diameter:

4 mm

Encoders

YES

Body dimensions:

65 x 22 x 19 mm

The weight:

140 g

Two-sided shaft:

NO
Description
DFRobot engine with 80:1 gearbox, 120 rpm, torque 16.5 kg*cm (1.6 Nm). The motor has a connector attached for easy connection. The necessary connection cables are also included: PH-2.0 with female terminals and cable with free cables.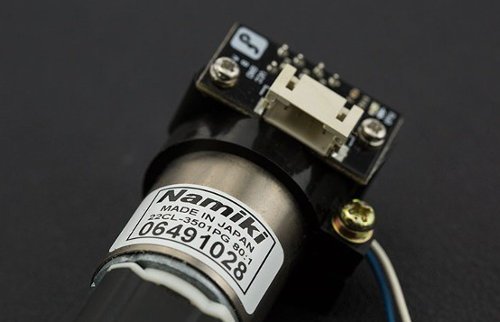 A cable matching the female connector is included in the kit.
Encoders
The speed sensors have open collector outputs, so a pull-up resistor should be used to read the slopes. Details on thediagram.