Attention!
The product has been discontinued. Check others products incategory.
Description
Module Blootooth v2.1+ EDR, class 2, communicates viaserial interface UART (RX, TX pins), supportsthe AT commands. The maximum range is 30 meters. The successor of the module HC-06 works with voltages like 3.3 V or 5 V so it can be connected directly to the Arduino modules.
Specification
Supply voltage: 3 V to 6 V connected to the VCC pin
Communicative leads work with a voltage of 3.3 V or 5 V
Current consumption: approx. 50 mA
Class 2 - power of transmitter max. + 10 dBm
Range: up to 30 m
The password for pairing: 1234
Standard: Bluetooth 2.1 + EDR
The SPP profile, configurable using AT commands
Software version: 3.4.512.1127
Communication: UART (RX, TX)
Small dimensions: 37 x 16 mm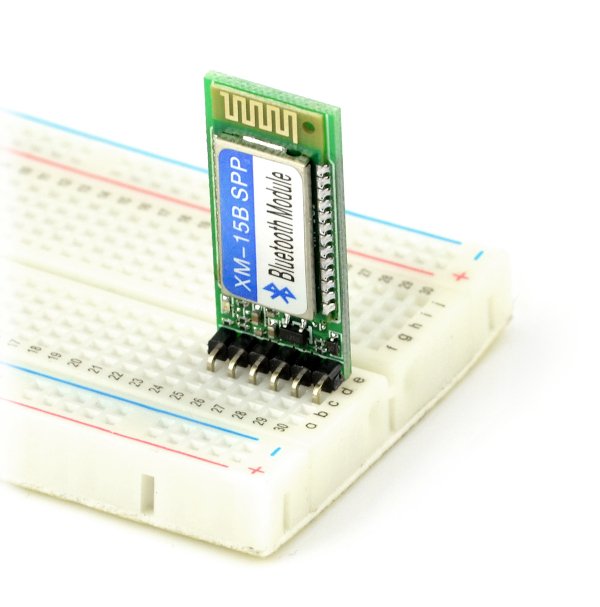 The device has a built-in converter of current 3.3 V - 5 V so it can be connected directly to the Arduino modules.
In addition to module XM-15B, on the Board are:
status led connected to the status leads PIO1 (24) indicating a proper connection
converter of logic levels working with voltages from 3 V to 5 V
the capacitors that filter the supply voltage,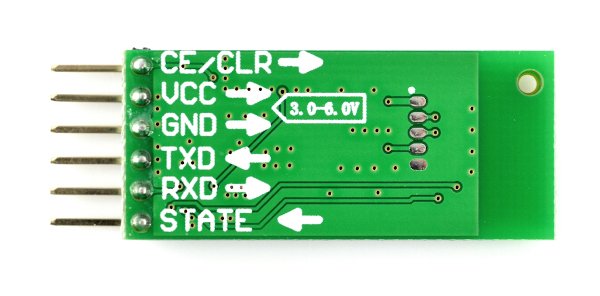 Leads are signed on the reverse of the board that facilitates the connection.
Connection
To start the module, you must connect the supply voltage to the pin markedVCCand massGND. The module is detected via the computer as unknown system or XM-15B, to pair both devices, you must enter the password:1234. The system will display a virtual COM port and it can, using any terminal, transmit data. The board has leads of serial interface UART - pinsTX and RX that you can connect, for example, withArduinoor the computer viathe FTDI adapter.
Communication can be checked by pairing the module with the computer and connecting plate using theFTDI converter. In two terminal's windows, you should select appropriate communication ports and also specify the speed of transmission 9600 bps. If the configuration is correct, the text, sent from one terminal will appear on the second terminal.