Attention!
The sale of the product has been completed. Check out the others inthis category.
Pololu 250 motor specification: 1
| | |
| --- | --- |
| Supply voltage: | 3 May - 9 May |
| No-load current (6V): | 40 mA |
| Current with the shaft stopped (6 V): | 360 mA |
| No load speed (6V): | 50 rpm |
| Torque (6V): | 2.3 kg * cm (0.225 Nm) |
| Gear ratio: | 250: 1 |
| Shaft Diameter: | 3 mm |
| Body dimensions: | 24 x 10 x 12 mm |
| Mass: | 10 g |
| Double-sided shaft: | NO |
Product Description: Pololu 250 Motor: 1
Small, light and powerful Pololu engines are used by robot constructors as drive units. The devices can bepowered with voltages up to 9 V, and useful power over 3 V. The optimal voltage with the best power to endurance ratio is 6 V.
Motor dimensions:
The motor body is a cuboid with dimensions of 24 x 10 x 12 mm. The gearbox is 9.27 mm long. There is a 3mm D-shaped shaft at the exit. The total weight is approximately 10g.
Accessories
We offer a number of accessories that work with Pololu micro motors: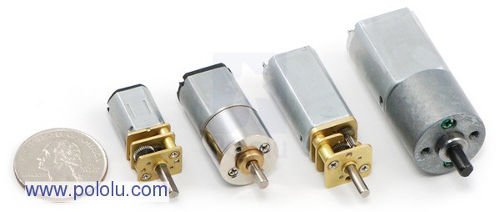 The store also offers many otherengines.
Compact but powerful 250: 1 motor
250: 1 motor - Pololu 1095 is a small but very efficient component that can be used in many electronic projects. The device has a gear of 250: 1 and has a rotational speed of up to 50 revolutions per minute. The current consumption without load is 40 mA.
The engine weighs only 10 g (with dimensions of 24 x 10 x 12 mm), so it can be used in projects where space saving is an important factor - for example in drones, mobile robots, remote-controlled vehicles or small electronic devices.
High quality and precise workmanship
Pololu motors are considered to be one of the best devices of this type available on the market. Users of electronic components of this American brand praise them, among others, for their careful workmanship, reliable operation, durability and easy assembly in the final position.
You can control the motor using a special module that supplies direct current with appropriate parameters. You will find a wide selection of engine controllers, mounting elements and other accessories from this category at the most attractive prices in other sections of our store.