Description
Miniature computerNanoPiversion Neo Plus2with processorAllwinner H5 quad-coreARM Cortex-A53, with a clock frequency of 1 GHz. Circuit Board has1 GBof memoryRAM DDR3, 8GB eMMC memory, integratedwi-fiandBluetooth 4.0,Ethernetport 10/100/1000 Mbit / sand2 USB slots,GPIO 36, a connector for memory card microSD. Works with systemsUbuntu and Debian.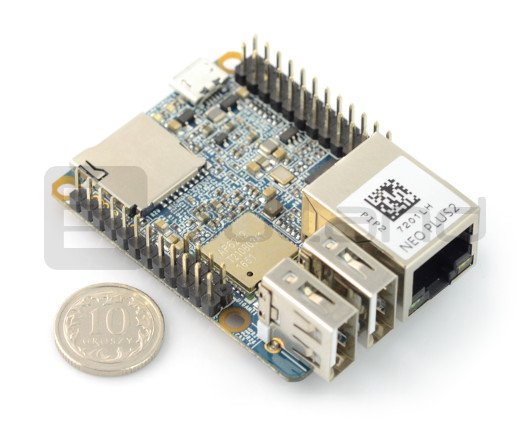 The advantage of tile is its small size, the dimensions of the tile - 52 x 40 mm.

What it takes to run minicomputer NanoPi?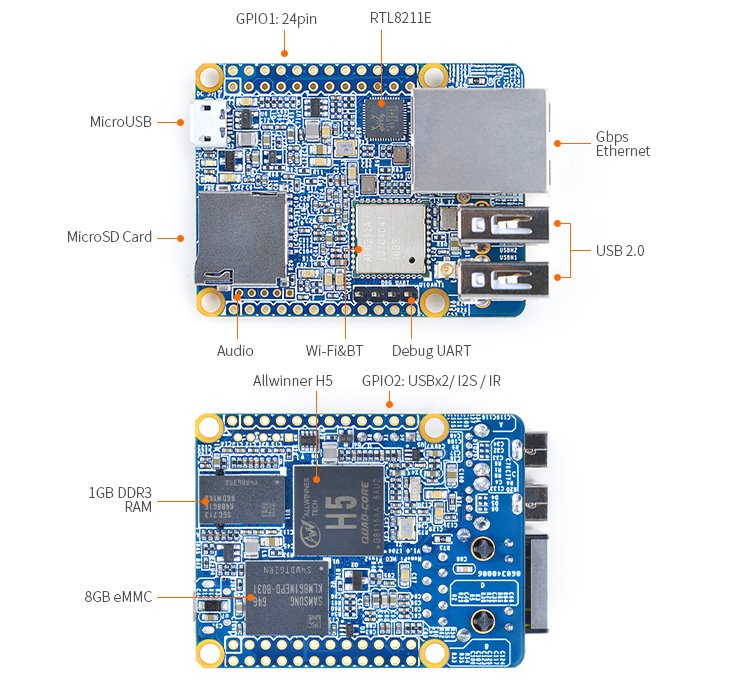 The device has 2 USB slots, connector and an Ethernet port, and many others.
Operating system
NanoPi works with the systems selected by manufacturer: Debian and UbuntuCore. The drive of device may be microSD card, which can be purchased in our store.
Communication
Minicomputer has basic communication interfaces that can be found in office computers of PC class. In addition to the previously listed connectors of audio and video the user has at his or her disposal:
2 x USB connector type-A, to which you can connect, for example, a mouse, a keyboard, a wi-fi card or USB flash drive. If you find that the slots are too short, you can increase their number usingan external USB HUB. The interfaces displayed on pins, can be connected using wires.
Ethernet socket, that is the ability to directly connect to the network.
Wi-fi module, i.e. the possibility of direct connection to the network.
Bluetooth 4.0for communication in standard BT.
GPIO x 36 pinoutputs/inputs with general purpose that can be used to control the LEDs, buttons, drivers of engines. Among them are the pins supporting interfaces: I2C, SPI and UART. The pins have to be soldered,goldpin raster strips with 2.54 mm lenght can be purchased in our store.
A slot for microSDslot for memory card microSD, on which can be installed the operating system.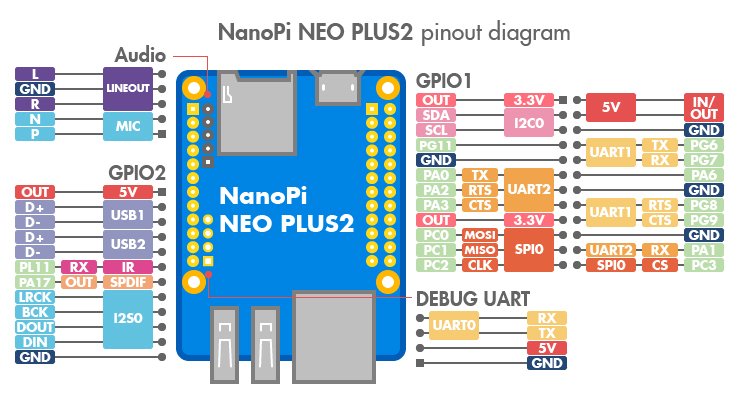 The distribution of the GPIO - pins are in set, must be solder individually.
Power
As a power source, the system uses the microUSB connector. The manufacturer recommends that the voltage indicated on the connector had a value of 5.0 and an output current of the used adapter shall not be less than 2.0 A. In our assortment you will findpower supplies that meet these parameters, for example:power supply Extreme 2.1 A.
Starter set
The manufacturer has prepareda set of sensors and modulesin a convenient chest that simplifies getting started with minicomputer.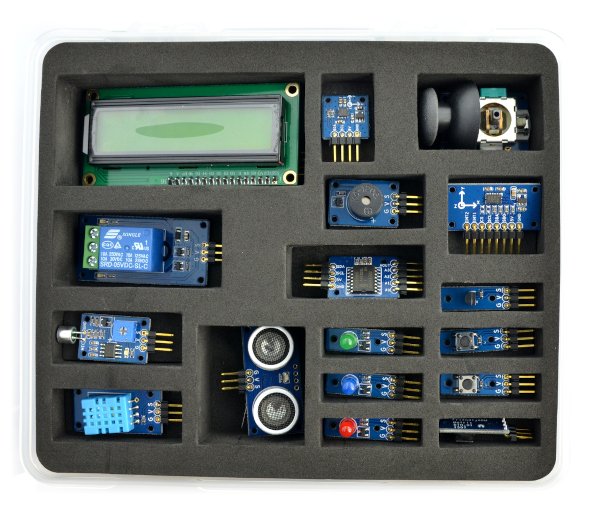 The contents of the setMatrix Starter Kit- sold separately.
Specification

Model
NanoPi Neo Plus2
Specification

Processor
Allwinner H5
The core

Quad-Core ARM Cortex A53

Systems

Debian

UbuntuCore

Clock frequency
1 GHz
RAM

1 GB

Memory

microSD memory card

internal memory 8 GB eMMC

Graphics

MAIL450 GPU

Socket GPIO

36-pin connector

Power


5 V / 2 A - microUSB

Tile sizes
52 x 40 mm
Interfaces
USB-Host

2 x USB A socket

2 x USB Host on pins 2.54 mm

Network interface

10/100/1000 Mbit / S Ethernet

Wi-fi 802.11 b/g/n ( included antenna)

Bluetooth 4.0

Video
-
Audio

audio output and microphone

out on the GPIO connector

Communication

UART, SPI, I2C, GPIO, PWM

The debugger

Serial port 4pin / 2.54 mm

Additional

Built-in led