Attention!
The product has been discontinued. Check others products in category.
Description
Portable multimeter made by UNIT-T company. It allows for measurement of DC voltage, AC and DC current and resistance up to 20 MOhm. The device also has a backlight and a feature allowing to save the last measurement.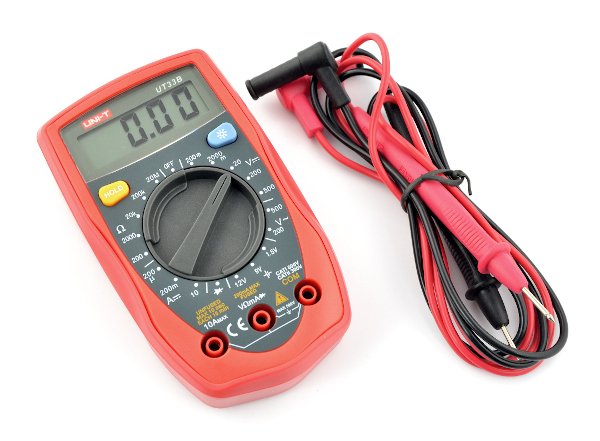 Universal multimeter UNI-T UT33B.
The meter is powered by the popular 9V battery, which is also included. The discharge of the battery is displayes on the digital indicator. Everything is enclosed in a protected, original box.
Includes:
Test leads
9V battery
Instruction: in English and Polish
Warranty: 24 months
Specification
| Option | Range |
| --- | --- |
| DC voltage | 200 mV / 2000 mV / 20 V / 200 V / 500 V |
| AC voltage | 200 V / 500 V |
| DC | 2200 µa / 200 mA / 10 A |
| AC | no |
| Resistance | 200 Ohm / 2 kOhm / 20 kOhm / 200 kOhm / 20 MOhm |
| Capacity | not |
| Inductance | not |
| Frequency | not |
| Temperature | not |
| Automatic range selection | not |
| Standby mode | not |
| Audio sound | not |
| Transistor tester | so |
| Tester of diode | not |
| Battery tester | yes 1.5 V / 9 V / 12 V |
| Function Data Hold | yes |
| Battery indicator | yes |
| Backlight | yes |
| Display | LCD 1999 (48 x 16 mm) |
| Dimensions | 130 x 73,5 x 35 mm |
| Power supply | 9 V battery (included) |
| Weight | 156 g |