Product description: 3D Printer - Creality Ender-7
3D printerby Creality. The device uses FDM technology. The workspace of Ender-7 has dimensions of250 x 250 x 300 mm. The surface of the heating table is a layer ofcarborundum glass, providing great adhesion of the first print layers and at the same time easy tear off the finished model. The distinguishing feature ofCrealityEnder-7 is the working speed, which is up to250 mm/s.Precise linear rail, CoreXY kinematics and stable frame structure are just some of the design solutions that ensure the best quality of prints at high speed.
3D printer - Creality Ender-7.
More speed, same precision
The Ender-7 is a breakthrough in the speed of forming 3D models. The maximum effective speed of the printer is up to250 mm / s. This is a value so far reserved for professional industrial devices. Creality Ender-7 allows you to enjoy fast printing while maintaining high precision of the final models.
Precision linear guides
The Creality Ender-7 uses high qualitylinear guides, allowing to significantlyreducetheresistancethat the device's printing elements may encounter during movement. The guides provide high precision positioning and stable movement even at high printing speeds. They also have a long service life, estimated by the manufacturer at more than 78,000 operating hours.
CoreXY kinematics
The Creality Ender-7 uses a solution based on theCoreXY conceptas a method of moving individual moving elements. It is based on the coordinated operation of two motors responsible for the operation of the system. In combination with high quality elements of the drive transmission, they allow to obtain precise prints even at high speeds.
Modified hotend and extruder
In Creality Ender-7 manufacturer applied modernized hotendhead. In addition to improving the nozzle, the volume of the melting chamber was increased (up to 50 mm3) and the volume of the heating block. Thanks to this, thefilamentis fully melted and can be precisely dosed even when printing at high speed.
The extruder, which is made ofmetal, extrudes the filament with great force and precision. It provides an uninterrupted, stable feeding of the material for printing.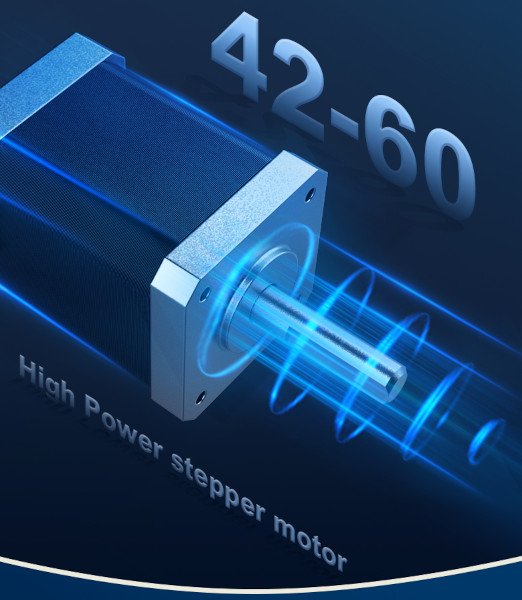 High power stepper motors.
Powerful stepper motors
The Creality Ender-7 uses42-60high power stepper motors. The efficient component ensures precise operation even at high speed. The powerful drive source increases the stability of the device and does not expose the user to unpleasant surprises during printing.
Improved cooling
The Creality Ender-7 print is cooled bytwo fanslocated on the printhead in locations that provide optimal airflow to the 3D model being formed. Using dual fans increases the overall volume of circulating air by 169% (compared to a single fan), providing faster cooling.
Creality Ender-7 specifications
Technical specification
Printing method:
FDM
Supply voltage:
200 V to 240 V (AC - mains)
Operating voltage:
24 V (DC)
Power:
350 W
Nozzle diameter:
standard: 0.4 mm
Supported filament:
PLA, ABS, PETG
Filament diameter:
1.75 mm
Print thickness:
0.1 mm to 0.4 mm
Accuracy:
0.1 mm
Display:
touchscreen
Operating mode:
USB, SD card
Compatible software:
Creality slicer, Cura, Repetier-Host, Simplify 3D
Print size:
250 x 250 x 300 mm
Nozzle temperature:
260°C
Table temperature:
100°C
Printer dimensions:
430 x 460 x 570 mm
Weight:
17.2 kg