‌
Product description: 3D printer - Creality Ender-3 V2 Neo
3D printer with a working area of 220 x 220 x 250 mm . It is a development of the popular Ender 3 V2 model. In the Neo version, the manufacturer used the proprietary CR Touch automatic leveling sensor and a fully metal Bowden extruder . A spring steel plate with an additional overlay placed on the working table ensures good adhesion of the first print layers. It also makes it easier to tear off the finished model. The dimensions of the structure of the device are 438 x 424 x 472 mm.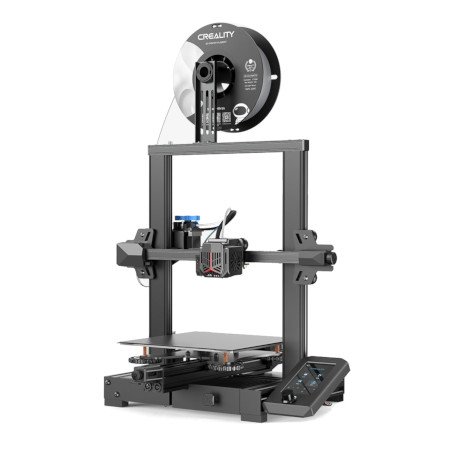 3D printer - Creality Ender-3 V2 Neo .
Presentation of the 3D printer prepared by the manufacturer .
Stable, metal construction
The metal structure of the device ensures high stability during operation. In addition to the possibility of forming precise 3D models, it also has a positive effect on the appearance of the printer, which looks very aesthetically. The set consists of partially assembled elements, thanks to which the assembly takes only several minutes. It should not cause problems even for less experienced users.
CR Touch sensor
The Ender-3 V2 Neo features the CR Touch auto-leveling sensor, developed by Creality. It enables 16-point compensation of the printing height on the surface of the working table. Provides greater leveling accuracy, thus improving print quality.
Metal Bowden system extruder
The Ender-3 V2 Neo's full metal extruder from the Bowden system has a higher extrusion force. It is also characterized by high durability. A specially designed knob facilitates smooth loading and removal of filament .
Working table surface
On the surface of the working table, the manufacturer applied a solution consisting of several layers. Here you will find a magnetic sticker from the bottom, a sheet of spring steel and an external PC overlay. The resulting prints have good adhesion. They can be easily removed after the plate is slightly bent.
New user interface and quiet operation
The modernized user interface on the Ender-3 V2 Neo makes it easier to work with the printer. The menu is clear and intuitive. The 3D model preview function allows even easier selection of the design for forming. The comfort of use is also increased by the quiet motherboard. According to the manufacturer's assurances, the sound generated during printing should not exceed 50 dB.
Additional device functionalities
To increase the convenience of using the device, the manufacturer has used additional functionalities:
Built-in drawer for handy tools
Convenient knob for belt tension adjustment
The resume printing function
Technical specification for the Creality Ender-3 V2 Neo 3D printer
Technical Specifications
Printing method:
FDM
Supply voltage:
200 V to 240 V (AC - mains)
Total power:
350 watts
Display:
4.3 '' LCD (knob controlled)
Print Speed:
up to 120 mm / s
Printing accuracy:
± 0.1 mm
Printing Thickness:
from 0.05 mm to 0.35 mm
Nozzle Diameter:
0.4 mm
Supported Filament:
PLA, PETG, ABS
Filament Diameter:
1.75 mm
Operating mode:
USB or SD card
File Format:
.stl, .obj, .amf
Software:
Cura, Repetier-Host, Simplify3D
Print Size:
220 x 220 x 250 mm
Nozzle temperature:
max. 260 ° C
Worktable temperature:
max. 100 ° C
Printer dimensions:
438 x 424 x 472 mm
Mass:
7.8 kg