‌
Product description: 3D printer - Anycubic Photon Mono X2 - resin
Anycubic 3D printer with a monochrome LCD display with a diagonal of 9.1 " and a resolution of 4096 x 2560 px (4K+). It is equipped with an additional cover against scratches and damage. Thanks to this, the life of the screen is extended. The construction of the printer has dimensions: 417 x 290 x 260 mm, and the dimensions of the working area are 200 x 196 x 122 mm .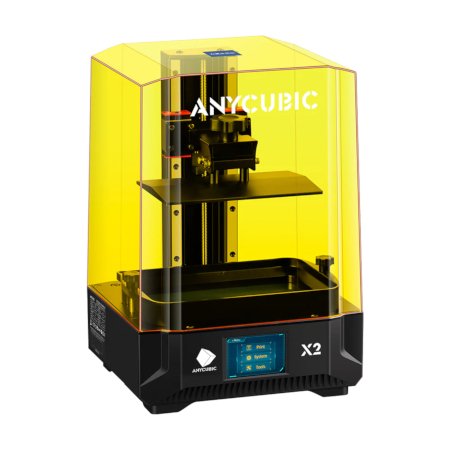 3D printer - Anycubic Photon Mono X2 - resin.
4K+ monochrome LCD screen
Thanks to the built-in screen with a diagonal of 9.1 "and a resolution of 4096 x 2560 px, Anycubic Photon Mono X2 has a 3.8% larger working area compared to Photon Mono X. This allows you to print large objects or several miniature ones at the same time. The display used also allows you to significantly shorten the exposure time of print layers.
High precision printing
Photon Mono X2 is a great choice also for demanding users. High precision, detail and ease of use will meet the expectations of both hobbyists and professionals. The accuracy of one pixel is 48 μm , which is an improvement of 4% over Photon Mono X.
Stable Z axis
Photon Mono X2 uses double linear guides , a POM spacer nut , and a vibration-damping design to ensure the accuracy of the Z-axis movement and eliminate visible layer lines.
Efficient light source
The printer is equipped with an improved Anycubic LightTurbo Matrix light source that emits UV light both parallel and perpendicular to the screen. Thanks to this, the exposure of the rays is more even, which significantly improves the quality of the printed models.
Engraved work plate
The build plate of the Photon Mono X2 printer is made of aluminum alloy. It has a laser- engraved checkerboard pattern , thanks to which the adhesion and stability of the printout is increased. At the same time, it makes it easier to detach the model from the plate.
Anycubic Slicer Software
The printer is compatible with Photon Workshop's own free software, which is constantly being updated . Other slicers such as CHITUBOX and Lychee Slicer can also be used to cut models.
Specification of the 3D printer - Anycubic Photon Mono X2
TECHNICAL SPECIFICATIONS
Power:
100W
LCD screen type:
monochrome, 9.1''
Working field volume:
4.8L
Light transmittance:
5%
Contrast Ratio:
350:1
Source of light:
Anycubic Light Turbo Matrix
Power Density:
up to 27,320 lux
Print resolution:
4096 x 2560 px (4K+)
Horizontal Resolution:
48μm
working area:
200 x 196 x 122mm
printing speed:
up to 60mm/h
Touchscreen:
3.5'' TFT
Communication:
USB Type-A 2.0
Printer dimensions:
417 x 290 x 260mm
Mass:
7 kg