Description
A set of electronic components that will help you get started with modules from the Arduino. The kit includes LEDs, resistors, sensors, chips and displays segment, potentiometer, remote control, IR transmitter, tile basicVelleman Uno. All fits in a small diary.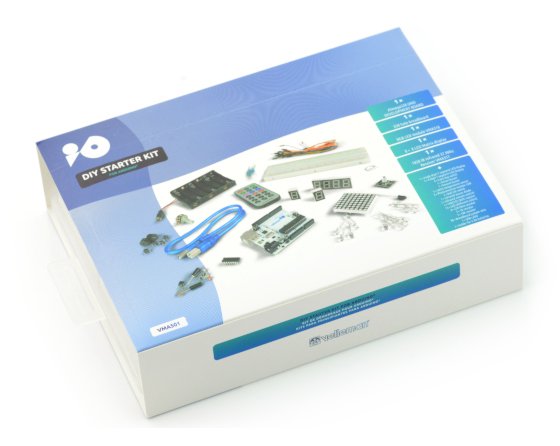 The set consists of:
L. p.
Photo
Description
1
Velleman Uno - module with Atmega328 microcontroller.
2
 
Breadboard, 830 fields- a large board with separate power lines to create electronic circuits.
3
A set of LEDs, 5 mm, 15 PCs - various colors
4
Module with LED RGB.
5
Resistor220 

Ω

- 8 PCs.
6

resistor 1

k

Ω

- 5 PCs.
7

Resistor 10

k

Ω

- 5 PCs.
8
Photoresistor- 3 PCs - the sensor for measuring the intensity of the incident light, allows, for example, to detect if the room is dark or light.
9
 Tact-switch buttons - 4 PCs. - used as an element of introducing data to the module of Arduino.
10
Potentiometer- similarly to buttons, connected to the analog pins and can serve as a UI element - simple knobs.
11
The shift register - enables, for example, the control of a large number of LEDs, while saving the digital pins of the Arduino.
12
Passive buzzer- allows you to add sound the alarm.
13
Buzzer with generator- powered by 5 V, a simple sound signal generator.
14
Connecting wires, 30 PCs, male-to-male - can create connections on the breadboard and the contact between the board and Arduino.

15

A-B USB cable with length of 1m - serves to connect the Arduino to the computer.
16
LM35 - sensor to measure temperature and air humidity.
17
LED matrix 8 x 8 -matrix module consisting of 64 LEDs arranged in 8 x 8

square

.
18

7-segment display x1 - 2 pcs - a single 7-segment display enables the dispaly of digitsand some letters.

19

7-segment display

 x4 - double 7-segment display

enables the dispaly 

of four digits and some letters.

20

The IR receiver of 37,9 kHz.

21

The IR remote controllor.

22

Tilt sensors - 2 PCs.

23

Infrared LED.

24

Basket for 6 x AA batteries with DC plug of 5,5 / 2,1 mm for Arduino.

25

Organizer to facilitatemoving the set.