Product description: M5Atom Motion - motor and servo controller - with M5Atom Lite development module - STM32F0
A kit consisting of theM5Atom Motionoverlay and theM5Atom Litedevelopment module. The overlay has an integratedSTM32chip equipped with anI2Ccommunication interface. It hasa 4-channel servo controlleranda 2-channel DC motor controller. It is powered by a removable16340 Li-Ionbattery included in the kit. Additionally, M5Atom Motion overlay is equipped with HY2.0-4P bi-directional interface extension and 4 output pins that can be used to connect additional sensors and peripherals. An independent power switch has been placed at the bottom of the module for added convenience.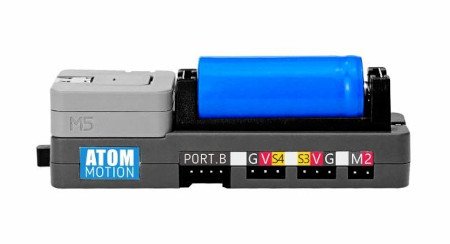 Motor and servo controller included with M5Atom development module.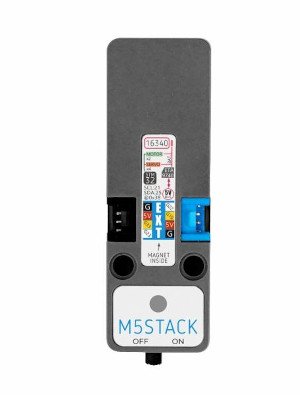 M5Atom Motion has an independent power switch, which was placed in the lower part of the module.
Product Features
4-channel servo controller
2-channel DC motor controller
Powered by a replaceable 16340 Li-Ion battery
Equipped with an independent power switch
Bi-directional HY2.0-4P interface extension
M5Atom development module based on ESP32-PICO controller is also included
Programmed from EasyLoader plane - fast and easy to use
Technical specification
Development module: M5Atom

Controller: ESP32-PICO
Flash memory: 4 MB
Connectors: GPIO, USB C, Grove

Driver chip: STM32
Number of channels:

4 channels for controlling servos
2 channels to control DC motors

Power supply: replaceable Li-Ion 16340 battery
Battery capacity: 700 mAh
Pin spacing: 2.54 mm
Communication interface: I2C
Interface address: 0x38
Programming:EasyLoader
Dimensions: 24 x 72 x 21 mm
Weight: 40 g
Set contents
M5Atom Motion
Screwdriver M2
Mounting screws M2 x 8 mm
USB cable type C - length 20 cm