Product description: AZO Digital 12 V battery charger BC-20 20 A (230 V / 12 V) 3-stage charging
High power 12 V charger/rectifier(280 W) for car, AGM and gel batteries with the possibility of working as a power supply. It has protection against overcharging (warning), short-circuit and reverse connection, and provides automatic battery diagnostics. The maximum charging current is 20 A.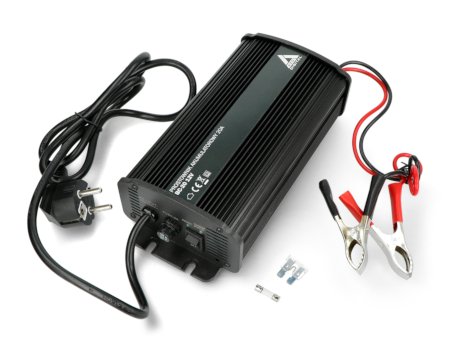 The charger operates in 3 automatic modes.
:
Stage 1 - Charging the battery with a constant current
Level 2 - Charging the battery with a constant voltage of 14.5V ± 0.2V
Level 3 - Charging the battery with 500-900 mA
Technical specification of the charger
Product name: BC-20 20A
Supply voltage: 190 to 265 V AC
Maximum charging voltage: 14.5 V DC
Operating charging voltage: 13.8 V DC
Maximum power: 288 watts
Maximum charging current: 20 A
Power fuse: 3 A
Charging fuse: 25 A
Short-circuit protection: YES
Thermal protection: 80 °C
Over-voltage supply protection: YES
Charging polarity reversal protection: YES
Operating temperature: from -20 °C to +40 °C
Efficiency: > 88
Cooling: Active
Power connector: Cable with plug for 230 V AC socket
Charging connector: Cable with "crocodile type" terminals for battery
Ground socket: YES
Housing: Aluminum
Degree of protection: IP21
Dimensions: 235 x 102 x 56 mm
Weight: 1050 g
Included
Charger BC-20
Power supply cables: 230 V AC + cable with "crocodile type" terminals for the battery
A set of spare fuses
In our offer you will also find a wide selection of gel batteries