Description: VM-02 motorcycle - mechanical assembly model - veneer - 189 elements - Ugearsmodels 70051
The mechanical model of VM-02motorcyclefrom Ugearsmodels made of ecological material -veneer. The set consists of189 elementsobtained through an advanced design technology and laser cut. The 3D puzzle hasprecisely marked detailswhich gives the model a realistic look. The motorcycle does not have any electronic components, the elements are set in motion by arubber band. After a suitable screwing on the model can cover a distance of up to 3 m. In its construction there is also abelt transmission, the observation of which helps to understand the principle of operation of the drive and the engine. The package contains plywood sheets from which it is enough to press outready-made elementsand connect them together, following the illustrated instructions included in the kit. Noglueor additionalassemblyparts are needed to assemble the model. Assembly takesbetween 1 and 2 hours.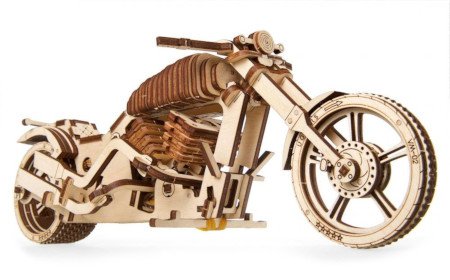 The combination of advanced design technology and production from ecological materials makes the model a perfect gift idea.
Technical specification of the set
Model: VM-02 motorcycle
Type: mechanical model
The model designed for self-assembly without glue
Suitable for children over 14 years old
Language of instruction: UKR, ENG, DEU, FRA, POL, SPA, ITA, RUS, JAP, KOR, CHI
Material of the elements: veneer
Number of elements: 189 pieces.
Assembly time: 1 to 2 hours
Model dimensions: 258 x 84 x 105 mm
In our offer you will also find other mechanical models fromUgearsmodels.