Description: Antique casket - mechanical model kit - veneer - 185 parts - Ugearsmodels 70089
Antiquecasket- wooden mechanical model for self-assembly fromUgearsmodels. It is equipped with eight compartments which can be used to store small trinkets or jewellery. The kit consists of185 elementsmade of veneer (plywood), which makes the model smell of wood. The package contains plywood sheets from which you just need to press out thefinished elementsand connect them together following the illustrated instructions included in the kit. Noglueor additionalassemblyparts are needed to assemble the model. Assembly takesbetween 4 and 5 hours.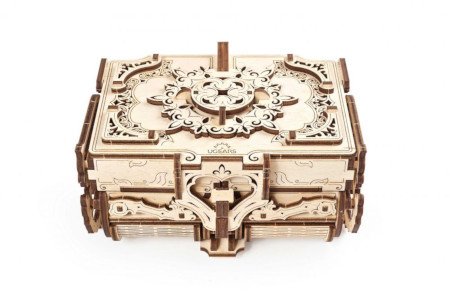 The antique casket from Ugearsmodels has been decorated with an elegant synceria combining floral ornamentation and oriental motifs.
Special features of the model - antique casket
It has eight compartments, which can be used to store small trinkets or jewelry
Thanks to delicate decorations the casket is an original element of every interior decoration, carefully made and practical
The model has three mechanical nodes - two of them are placed on both sides of the casket and unfold the upper shelves, and the third mechanism pulls out the lower drawer
Additionally, in the back of the box there is a secret button, which opens two hidden compartments
Models from Ugearsmodels are a smart and engaging hobby and the perfect gift for anyone of any age
All space puzzles are made of veneer (plywood), so they smell like wood
The axles can be lubricated with paraffin or wax to make the mechanism run more smoothly
Technical specification of the set
Model: antique casket
Model designed for self-assembly without glue
Language of instruction: UKR, ENG, DEU, FRA, POL, SPA, ITA, RUS, JAP, KOR, CHI
Material of the elements: veneer
Number of elements: 185 pcs.
Level of difficulty: medium
Assembly time: 4 to 5 hours
Dimensions of the model in a closed form: 175 x 140 x 100 mm
In our offer you can find also other mechanical models fromUgearsmodels.