Product description: AMG8833 Grid-EYE - Temperature sensor IR Qwiic / STEMMA QT - Adafruit 3538
A digital temperature sensor in the form of an IR thermal camera manufactured by Adafruit. It is compatible with Arduino and other derived boards. Equipped with AMG8833 chip, it detects objects using infrared technology with thermocouple array in 8 x 8 layout. Qwiic / STEMMA QT connectors are placed on the board. The temperature measurement range is from 0°C to 80°C. The sensor detects human presence from a maximum distance of 7 m. The maximum refresh rate is 10 Hz, which makes the sensor suitable for custom human detection projects or mini thermal imaging cameras. Powered from 3V to 5V.
Product compatible with Arduino
Manufacturer provides detailed user guide and library for Arduino IDE environment.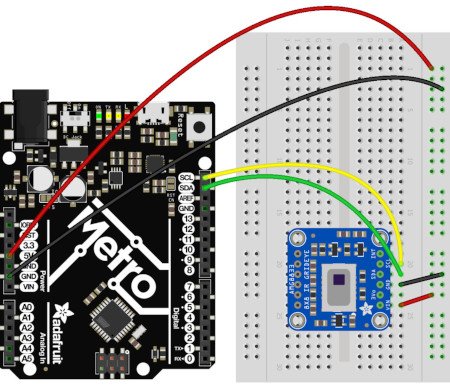 Connection diagram of temperature sensor in form of thermal camera from Adafruit. Metro board and contact board are not included in sale, you can buy them separately in our shop.
Connecting the sensor
The picture on the right shows a sample wiring diagram of the sensor with an Arduino-compatible Metro board and contact board and connection wires. Alternatively, the sensor can be connected directly using included goldpin connectors. The module is also equipped with two Qwiic / STEMMA QT connectors for simpler connection.
VIN - power supply pin, voltage from 3 V to 5 V.
GND - ground pin.
SCL - I2C bus clock pin.
SDA - I2C bus data line pin.
Technical specification of Adafruit temperature sensor
Measuring technology: IR
Chip: AMG8833
Thermocouple array: 8 x 8
Individual readings: 64 px
Temperature range: 0°C to 80°C
Measurement accuracy: ± 2.5°C
Human detection distance: approximately 7 m
Maximum refresh rate: 10 Hz
Communication interface: I2C
Two Qwiic / STEMMA QT connectors
Communication interface address:

default: 0x69
can be changed by soldering jumper: 0x68

Power supply parameters: 3 V to 5 V
Dimensions: 25.8 x 25.5 x 6.0 mm
Weight: 2.9 g
Set contents
Temperature sensor from Adafruit
Connectors goldpin - 2,54 mm raster