Description: DJI RoboMaster S1 - educational robot
The kit consists of elements for self-assembly of the DJI brand robot. RoboMaster allows users to understand science, mathematics, physics, programming and other issues through engaging entertainment modes and intelligent functions. The kit includes 46 programmable components, 6 programmable Artificial Intelligence AI modules, an HD FPV camera, an Omni 4-Wheel Drive and much more.
Key features of the RoboMaster
Intelligent controller - thanks to a powerful processor, the controller can simultaneously transmit high quality images with low latency, perform AI calculations and perform programmed functions.
Blaster - uses LEDs to mark the trajectory of gel beads and infrared beams. The robot produces sound effects during the shot, giving the impression of simulating a battle. For safety reasons, the blaster uses non-toxic gel balls and has speed and angle restrictions.
2-axis mechanical gimbal - the range of rotation / deflection of the gimbal is 540° x 65°, which provides a wide field of view of the FPV camera. Built-in brushless motor with drive, works with IMU sensors and advanced algorithms to enable gimbal moves with control accuracy of ± 0.02°, ensuring smooth image transmission and control precision.
Mecanum - RoboMasterwheels are equipped with four Mecanum wheels, each with 12 rollers, which enable multi-directional movement and precise control.
Powerful motor - The robot is equipped with a custom M3508I motor with integrated FOC ESC controller, with an output torque of up to 250 mN*m, Linear Hall sensors with advanced algorithms, allow closed-loop control for additional precision. Additional safety mechanisms ensure exceptional stability.
Intelligent Armor - DJI RoboMaster is covered with six intelligent panels that can detect the impact of a ball or infrared beam. The refereeing system can transmit hit data, incorporating it into the game in real time.
Attention!
The set consists of self-assembly elements, the manufacturer provides auser manual.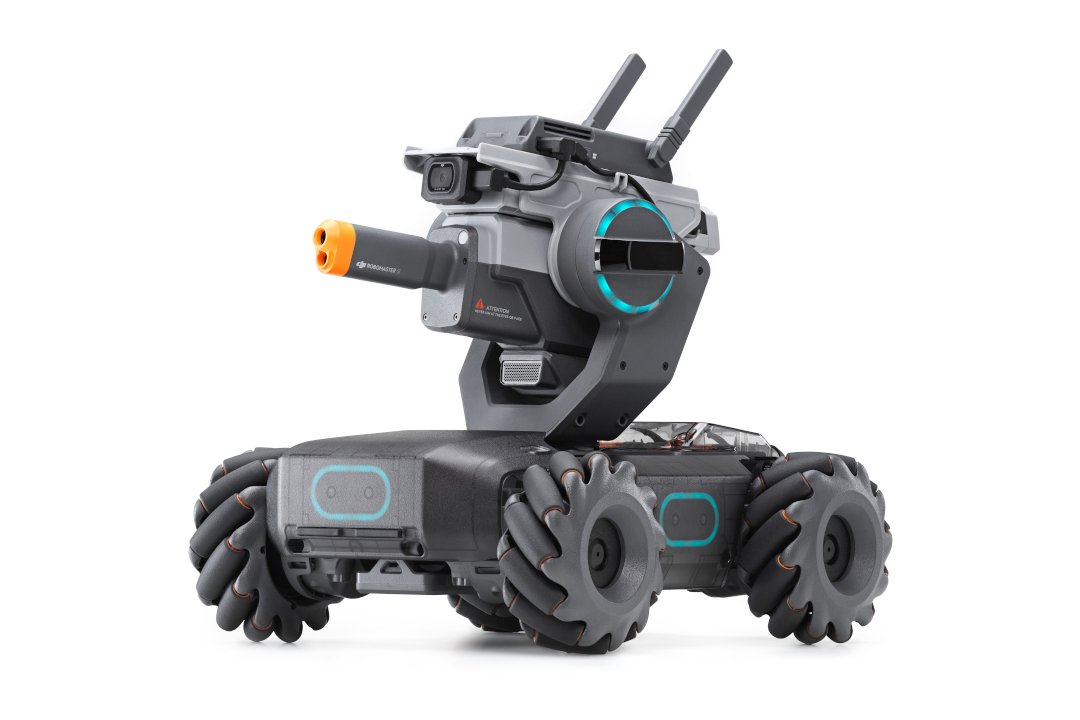 DJI RoboMaster S1.
Programming the DJI RoboMaster
The robot can be programmed in Python and Scratch. This allows you to develop your programming skills, whether you are just beginning your programming adventure or already know the basics and want to further develop your skills and become an expert.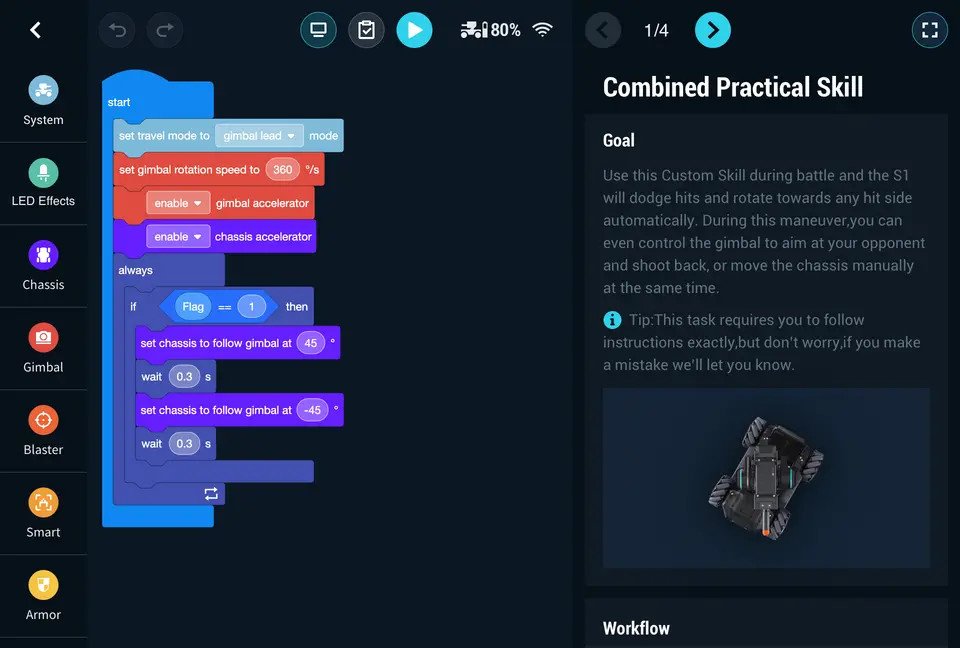 Scratch 3.0 is a classic visual programming language used in primary and secondary schools around the world.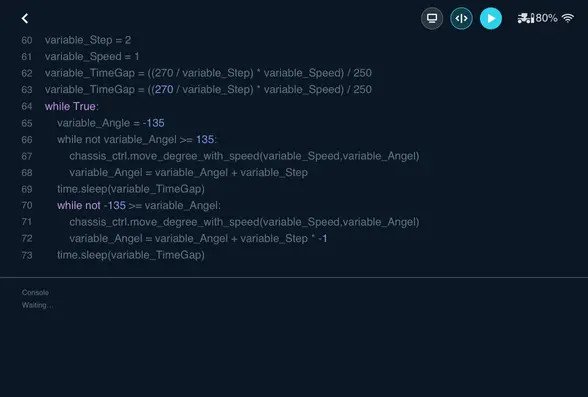 Python is a widely used language in the field of artificial intelligence.
Unlimited possibilities
The kit contains 46 configurable elements, giving you unlimited room for innovation. Six PWM ports and one SBUS port support custom accessories for further expansion of the robot. The RoboMaster can be controlled via a remote control using the SBUS protocol, and complex codes can be programmed using an external programming board.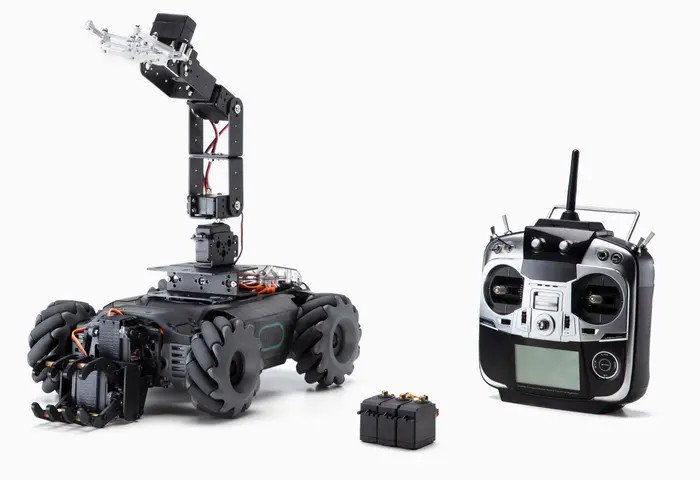 Only the robot kit is sold, the other components can be purchased separately.
Artificial Intelligence in DJI RoboMaster S1
Line recognition - the robot can be programmed to follow the line. The more knowledge in mathematics and physics is applied, the better the RoboMaster can handle this task.
Character Recognition - RoboMaster can recognize up to 44 markers, which contain numbers, letters and special characters that extend the possibilities of programming and fighting.
Tracking objects - thanks to advanced computer vision technology, the robot is able to identify and track every person selected in the RoboMaster's field of vision.
Audio Commands - The S1 is equipped with a module detecting clapping sound, which can be freely programmed.
Gesture recognition - The robot can recognize different physical gestures and can be programmed to respond independently.
Recognition of other robots - The RoboMaster is able to recognise other S1 units, a capability that can extend the possibilities of play and entertainment.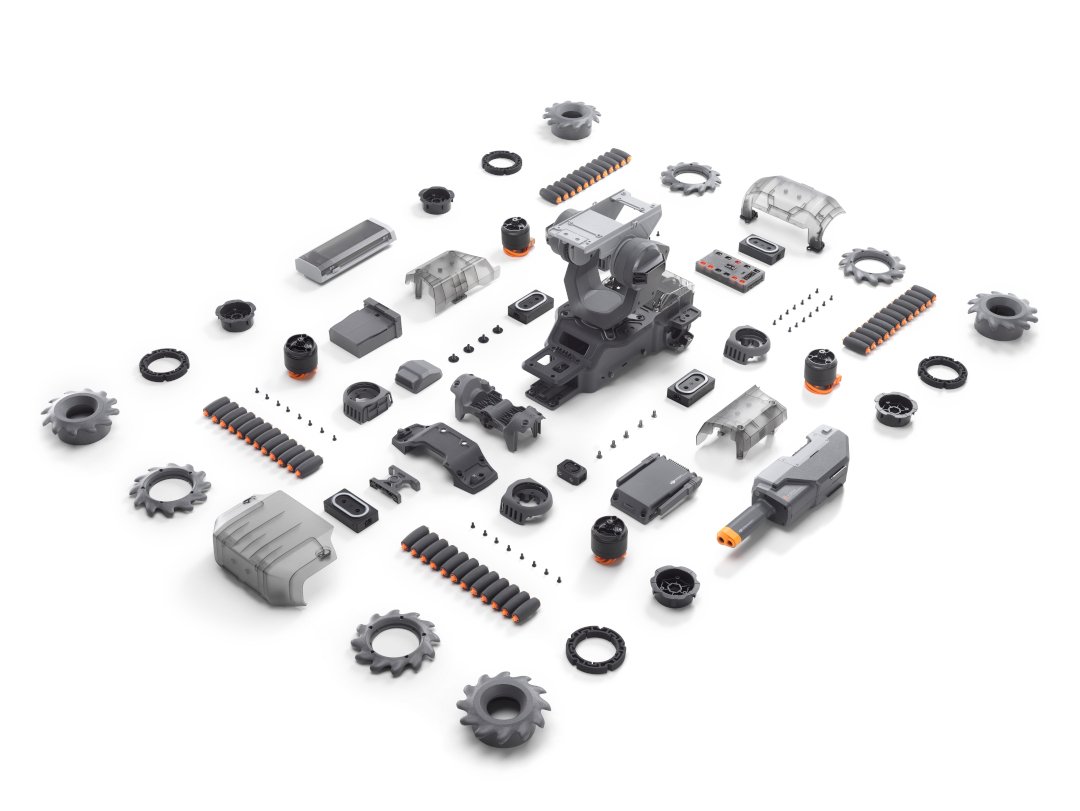 Contents of the DJI RoboMaster S1.
DJI RoboMaster S1 specifications
Camera
FOV
120°
Maximum resolution of the image
2560 x 1440
Maximum video resolution

FHD: 1080 / 30 fps

HD: 720 / 30 fps

Maximum video transmission speed
16 Mb/s
Image format
JPEG
Video format
MP4
Sensor
CMOS 1/4, 5 MPx
Operating temperature
from -10°C to 40°C
Impact sensor
Requirements

For the sensor to be activated, the following conditions must be met:

diameter of the gel ball: 6 mm or more
the start-up speed: 20 m/s
angle between the direction of impact and the plane of the sensor: not less than 45°

Maximum detection frequency
15 Hz
Brushless motor M3508I
Maximum speed
1000 rpm
Maximum moment
0.25 N*m
Maximum output power
19 W
Operating temperature
from -10°C to 40°C
Controller
FOC
Method of control
Closed loop speed control
Safeguards

Overvoltage protection
Protection against overheating
Gentle start-up
Short-circuit protection
System and sensor anomaly detection

Blaster
Controlled starting frequency
1 / s to 8 / s
Maximum starting frequency
10 / s
Initial start-up speed
Okay. 26 m/s
Average capacity
430
Gimbal
Controlled scope

Jump: from -20° to 35°

Deviation: ± 250°

Mechanical range

Jump: from -24° to 41°

Deviation: ± 270°

Maximum rotation speed
540°/s
Precision control (on flat surface and Blaster at rest)

± 0,02°

Intelligent controller
Delay

WiFi connection: from 80 ms to 100 ms

Connection via router: from 100 ms to 120 ms

Quality of live viewing
720p / 30 fps
Maximum live speed
6 Mb/s
Frequency of operation
Mode of operation
Connection via WiFi, connection via router
Maximum transmission distance

Wi-Fi connection:




FCC, 2.4 GHz 140 m, 5.8 GHz 90 m

CE, 2.4 GHz 130 m, 5.8 GHz 70 m

SRRC, 2.4 GHz 130 m, 5.8 GHz 90 m

MIC, 2.4 GHz 130 m




Connection through a router:




FCC , 2.4 GHz 190 m, 5.8 GHz 300 m

CE, 2.4 GHz 180 m, 5.8 GHz 70 m

SRRC, 2.4 GHz 180 m, 5.8 GHz 300 m

MIC, 2.4 GHz 180 m

Transmission Power (EIRP)

2,400 to 2,4835 GHz




FCC: ≤30 dBm

SRRC: ≤20 dBm

CE: ≤19 dBm

MIC: ≤20 dBm




5.150 to 5.250 GHz




FCC: ≤30 dBm

SRRC: ≤23 dBm

CE: ≤20 dBm

MIC: ≤23 dBm


from 5,725 to5,850GHz

FCC: ≤30dBm

SRRC: ≤30dBm

CE: ≤14 dBm

Transmission standard

IEEE802.11 a / b / g / n

Intelligent battery
Capacity
2400 mAh
Nominal charging voltage
10,8 V
Maximum charging voltage
12,6 V
Battery type
Li-Pol 3S
Energy
25,92 Wh
Mass
169 g
Operating temperature
from -10°C to 40°C
Charging temperature
from 5°C to 40°C
Maximum charging power
29 W
Battery life during use
35 min

Battery life in standby mode

Okay. 100 min
Charger
Entry
100 V to 240 V, 50-60 Hz, 1 A
Exit
12.6 V / 0.8 A or 12.6 V / 2.2 A
Voltage
12,6 V
Power
28 W
Gel ball
Diameter
5.9 mm to 6.8 mm
Mass
from 0.12 g to 0.17 g
Application
Name
RoboMaster
iOS
iOS 10.0.2 or higher
Android
Android 5.0 or higher
Ruter
Recommended models

TP-Link TL-WDR8600; TP-Link TL-WDR5640 (China)




TP-Link Archer C7; NETGEAR X6S (Global)

Recommended external power supply for router
Power Bank
MicroSD card
Supported microSD cards
up to 64 GB
Useful links
Installation instructions