Attention!
The product has been discontinued. Check others products incategory.
Description
DJI Mavic is the newest quadrocopter designed especially for travelling. Mobile, user-friendly design and compact size will allow you to take it with you anywhere. Mavic's functions and capabilities satisfy even the most experienced pilots. The latest drone from DJI is primarily intelligent system of the applied obstacle avoiding (such as in the Phantom 4). Quadrocopter is supplied with 5 sensors whiche cnstantly register the footage. GPS supported with GLONASS provides excellent stabilization and sends precise data about the current location.
Attention!
Product refurbished by the manufacturer. It has no signs of use, brang new. It has a full manufacturer's warranty.
Stable footage
Mavic is a small but incredibly powerful device. It allows you to create amazing videos and photos. The image stability is provided by the 3-axes gimbal. The DJI GO app gives you access to all the functions of flight, camera settings and view live video on your smartphone in HD quality. The range of the drone is up to 4 kilometers.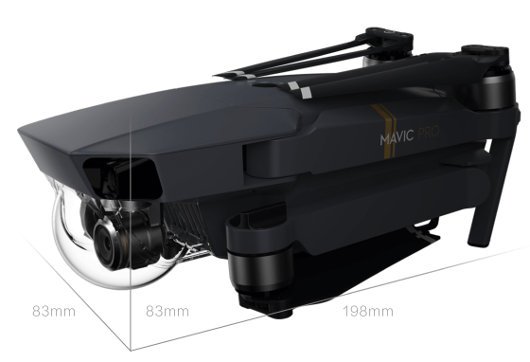 The size of the drone after assembly is only 83 x 83 x 198 mm.
Speed and accuracy
DJI Mavic in Sport mode can move at speeds up to 65 km/h, while still being extremely easy to control and incredibly stable in the air. The camera, with which the drone is equipped, will record video in up to 4K quality at 30 frames per second, and creates amazing 12-megapixel photos. The camera has the ability to create files in Adobe DNG RAW, which will greatly facilitate professional postproduction.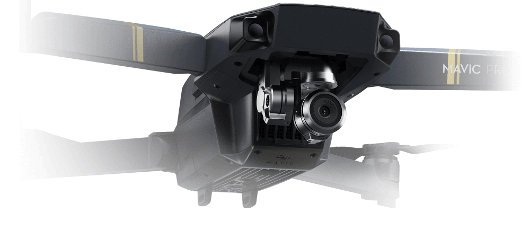 Full control
Full control of the drone is provided in the supplied control transmitter. In combination with a smartphone, we get access to preview video from the camera in HD. Drone can be controlled by the transmitter (without a smartphone), or by a smartphone. The kit can be completed with special FPV goggles from DJI which will provide an unforgettable experience. Goggles connect with Mavice wirelessly or by cable.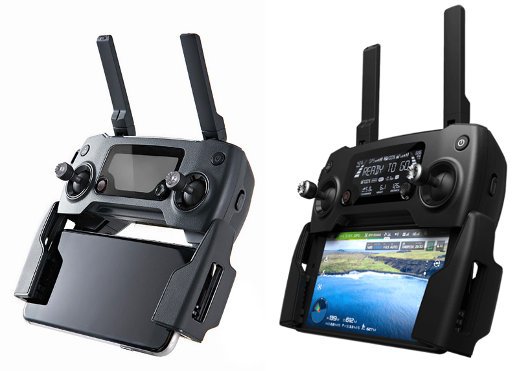 Long flight time and additional features
DJI Mavic has a specially designed smart battery pack. It allows for approx. 23 minutes of flight. Additional batteries effectively extend the time of the flight. The charging time is about 1.5 hours. The drone has many useful features. One of them is maintaining a constant altitude above the earth in follow me mode, thanks to that when you travel to the mountains, the video will be continuously focused on the operator.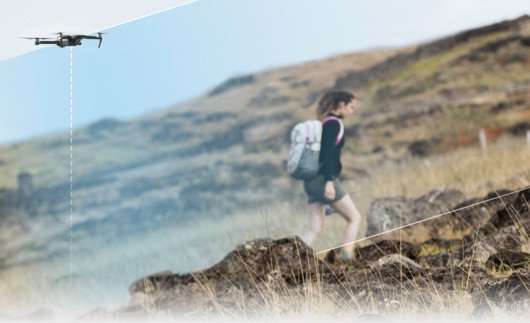 Management with gestures
The newly introduced technology allows controlling the drone with gestures. You want to take a selfie without holding a camera? Show Mavic a preset gesture and it will perform incredible aerial selfie with you in the starring role.

Specification
Ready to fly straight out of the box
Special systems provide a stable flight wiht no vibration
Built-in obstacle detection system operating in the range from 0.7 m to 15 m
Battery LiPol 3S 3830 mAh battery allows 27 minutes of flight
Module GPS / GLONASS, provides stabilization of the position
Range: up to 4000 m
3-axes gimbal range of motion: pitch from -90 ° to +30 °
The camera records in standards:

C4K: 4096×2160 24p
4K: 3840×2160 24/25/30p
2.7 K 2704×1520 24/25/30p
FHD: 1920×1080 24/25/30/48/50/60/96p
HD: 1280×720 24/25/30/48/50/60/120p
Maximum flight speed: 50 km/h
Diagonal: 335mm
Dimensions: 83 x 83 x 198 mm
Weight: 743 g (gimbalem)
Detailed specification is available onthe DJI website.
Included
DJI Mavic
Battery x1
Controller
A couple of propellers x3
Gimbal lock
Memory card micro SD 16GB
Micro USB cable
The RC

cable 

(iOS)
The RC

cable 

(Android)