Attention!
The sale of the product has been completed. Check others in thiscategory.
Description
The latest DJI product from the Phantom series. In addition to traditional GPS and IMU stabilization systems, it also has an innovative intelligent obstacle bypass system. Phantom 4 is easy to pilot and extremely stable during flight.
Two batteries are included.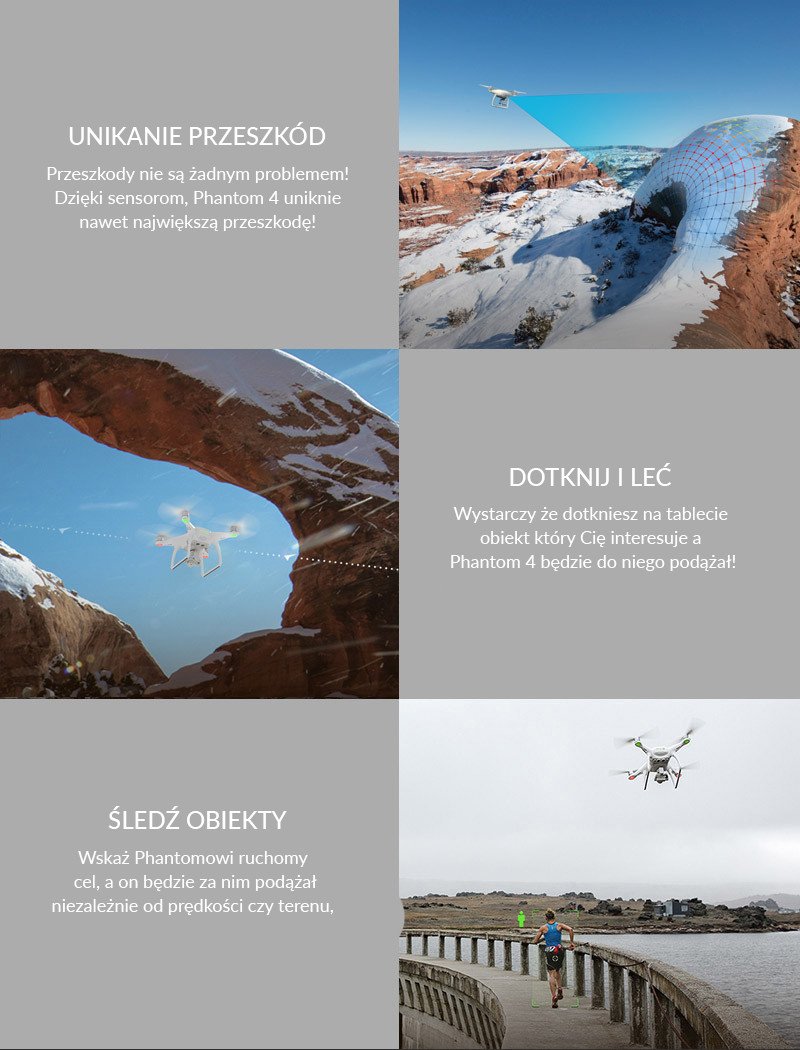 Built-in camera with gimbal allows you to record the image in 4k and its transmission in 720p resolution over a distance of 3 km. The live image is free of delays so we can control Phantom 4 with great precision.
Video
Phantom 4 has a 3 axis gimbal which makes the image smooth and vibration-free even during very fast shots. Camera stabilization allows you to take amazing shots in motion and movies.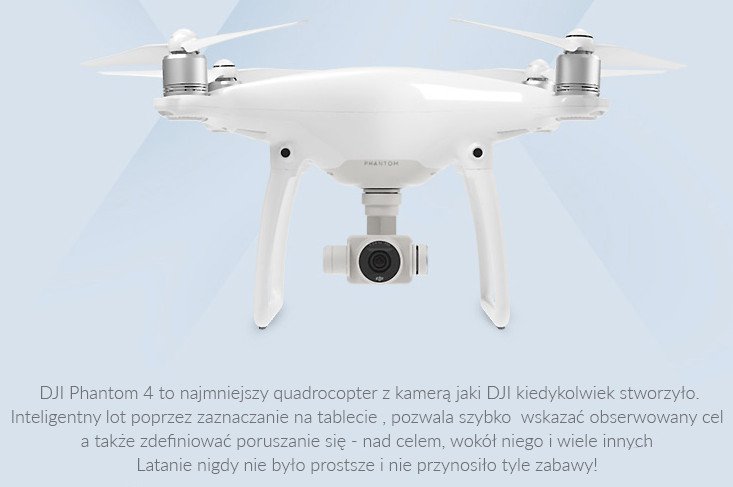 Thanks to the new technology battery with a capacity of 5350mAh we can get up to 28 minutes into the air! This time can be achieved in windless weather and calm flight. The new intelligent batteries keep the DJI GO application informed about their charge status.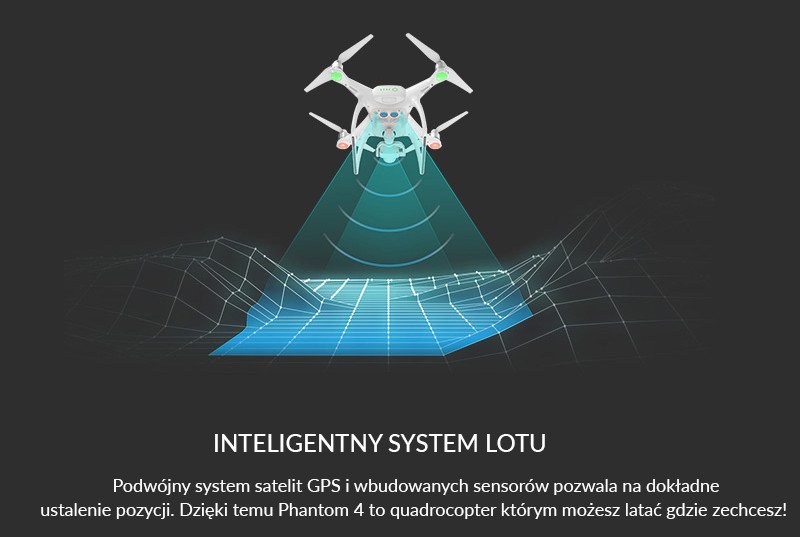 Sports mode
The new Phantom in sports mode can reach speeds up to 72km/h! Most importantly, it does not lose its functionality and still allows for precise obstacle bypassing and precise positioning.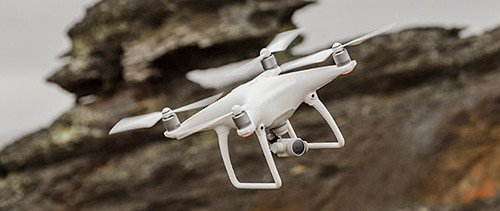 Phantom 4 uses a new quality propellers made of ultra-lightweight materials. They remove the slightest vibrations, even in the most violent flight. The "Push And Relase" mounting system ensures safety and ease of use.
Specification
Phantom 4 is ready to fly out of the box
Special systems ensure stable, vibration-free flight
LED indicators indicate the current status of the device (including battery level)
Built-in obstacle detection system operating within a range from 0.7 m to 15 m
Return Home function (safe return to the starting point)
LiPol 4S 5350 mAh battery allows for 28 minutes of flight
GPS / GLONASS module provides position stabilization
Range: up to 3500 m
Three-axis gimbal with a range of motion: pitch from -90° to +30°
Recording camera in standards:

UHD: 4096×2160 (4K) 24 / 25p
3840×2160 (4K) 24 / 25 / 30p
2704×1520 (2.7K) 24 / 25 / 30p
FHD: 1920×1080 24 / 25 / 30 / 48 / 50 / 60 / 120p
HD: 1280×720 24 / 25 / 30 / 48 / 50 / 60p
The return home function enables the automatic return of the drone
Diagonal: 350 mm
Maximum flight speed: 20 m/s
Maximum climbing speed: 16 m/s
Weight: 1380 g
Detailed specifications are available onthe DJI website.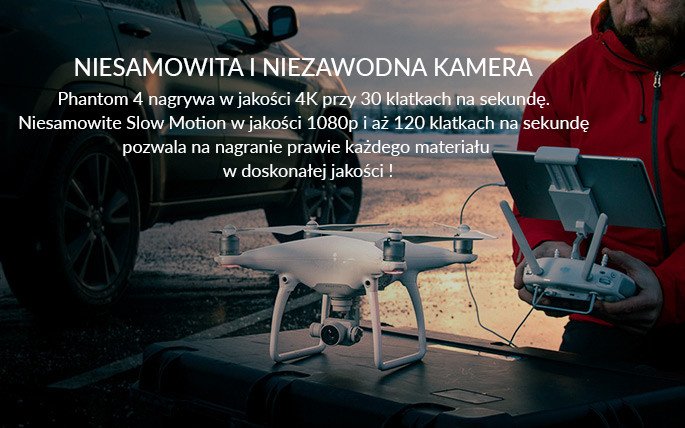 Included
Phantom 4
Control unit
Propellers x4
Smart battery x2
Charger
micro SD card 16GB
Security for gimbal
Wiring set