‌
Product description: Alcohol dye for Royal Resin epoxy resin - transparent liquid - 15 ml - orange
An alcohol dye used to dye Royal Resin Crystal and Royal Resin Clear resins orange , without the groats effect. Royal Resin alcohol dyes can be combined with each other. Thanks to their specific properties, various types of colorful patterns are created. The product is recommended to be used with layers thicker than 1 cm . One package contains 15 ml of liquid and is enough to color about 1 kg of resin.
Attention!
Alcohol dyes can be neutralized by some resins and disappear.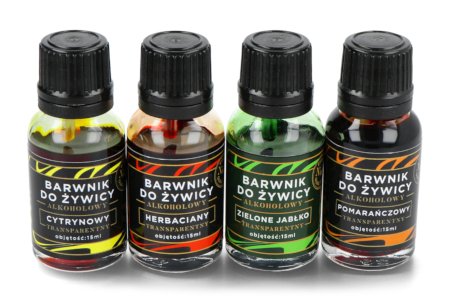 We also offer dyes in other colors - check.
The main characteristics of the alcohol dye
It combines very easily with resins
One package is enough to color about 1 kg of resin
Effective coloring is obtained in layers more than 1 cm thick
When added to the resin, the dye combines with it and floats below the surface
The dye may stratify, mix the contents of the bottle thoroughly before use
Leaving the dye open will cause it to harden and become unusable
Dyes tend to evaporate
Orange color
Volume: 15ml