Product description: SwitchBot Hub Mini - WiFi / IR gateway for SwitchBot robots
SwitchBot Hub Mini is a gateway that allows you to control SwitchBot Bluetooth robots via WiFi or IR remote controls. With its use, you can control the robots from anywhere through the application for Android or iOS mobile devices. The SwitchBot Hub Mini also allows you to connect the SwitchBot ecosystem to your other home appliances, allowing you to quickly upgrade your home. It allows you to simultaneously control devices and e.g. lighting. The Hub Mini also allows you to control the SwitchBot using Google Assistant, Alexa and Siri voice assistants .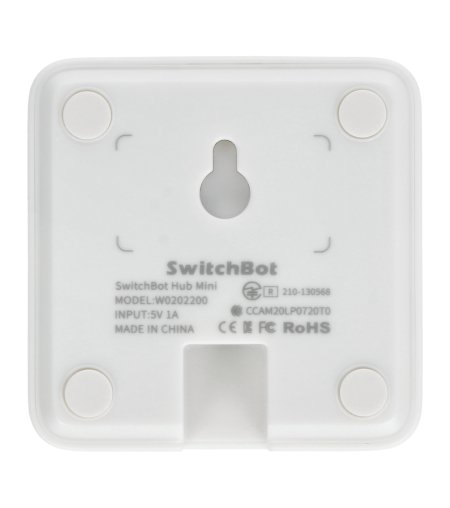 The SwitchBot Hub Mini can be attached with a mounting pin or double-sided tape.
Main Features of SwitchBot Hub Mini
The ability to control via the application - in the application you can set schedules that will automate home activities related to the operation of devices, as well as integrate Smart Home sensors. In the application, you can find a list of compatible devices that can be controlled from the application.
Ability to control the SwitchBot ecosystem - SwitchBot Hub Mini allows you to control the SwitchBot ecosystem from anywhere in the world with an Internet connection. The gateway also allows you to control devices using voice commands, using assistants such as Google Assistant, Amazon Alexa and Siri.
Controlling devices outside the home - Hub Mini is able to remotely control devices, e.g. turn off the lights in the apartment (SwitchBot bot necessary).
Unlimited number of devices - the SwitchBot Hub Mini gateway has no limit to the number of devices it can control, and all learned devices are remembered by the application. Just point your standard remote control at Hub Mini, then press any button, device brand and model will be automatically recognized. The device database is updated every few weeks.
Easy installation - Hub Mini controls household appliances using built-in receivers and an infrared transmitter.
Three learning modes :

Smart Learning - this is the most common way to add a device, thanks to which the Hub Mini is able to learn and imitate the signal of the selected remote control in just 5 seconds.
Manual Selection - it is used when it is impossible to add a device via smart learning mode. It involves manually adding infrared devices.
Customized (DIY) - try this mode if in manual mode Hub Mini still can't learn your remote.
SwitchBot Hub Mini WiFi/IR gateway specification
Power supply: 5 V / 1 A, microUSB (cable included)
WiFi: 2.4GHz
BLE: 2 or higher
Bluetooth range: maximum 120 m (under ideal conditions without obstacles)
Bluetooth technology: Patented, mesh-enabled energy-saving BLE
Compatible with: Alexa, Google Assistant, Siri, IFTTT, SmartThings, Line Clova, Android 4.3+, iOS 10.0+, WatchOS 1.0+
White color
Material: ABS
Operating environment: -10°C to 60°C / 5% to 95% RH
Dimensions: 65x65x20mm
Weight: 36g
Kit contents
SwitchBot Hub Mini
microUSB cable
3M tape
Quick Start Guide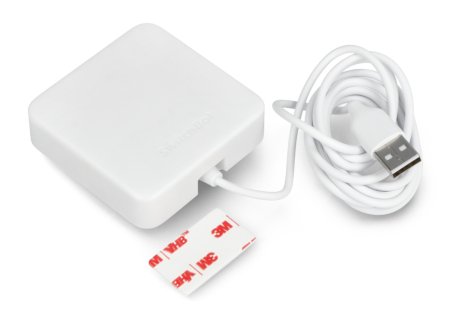 Kit contents.
‌