Product description: Grove - carbon dioxide sensor CO2 IR
Grove carbon dioxide CO2sensormodule. It is very sensitive to the concentration ofCO2and reacts to its presence. It has aUARTinterface and is equipped with a four-pin female to four-pin cable, for easy connection. TheMH-Z16sensor operates by means of infraredandis designed for general use, is very easy to use and connect. It can be widely used in the control and monitoring of various industrial, agricultural, animal husbandry or simply in the environment of your home. With this device you will guarantee your own and others' safety and create intelligent solutions.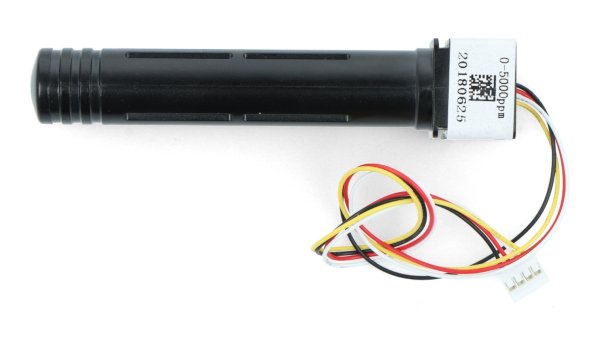 Grove - CO2 carbon dioxide sensor.
Extracts 
The module has 4 Grove connector compliant leads:
| PIN | Description |
| --- | --- |
| Black | Mass |
| Red | Power supply |
| White | TX transmitter pin |
| Yellow | Pin of the RX receiver |
Features of the CO2 sensor
High sensitivity and reaction to CO2 gas
Low power consumption during sensor operation
UART output
Type: IR
Good stability during operation
No steam interference during operation
Long sensor life
Guarantee of good performance
Use of CO2 sensor
Indoor air quality sensor
Sensors used in industry to control and maintain safety conditions
Safety during plant and animal breeding processes, in agriculture
Security
The sensor should be calibrated regularly, every 6 months at the most
During calibration, first warm up the sensor for about 5 minutes and check that it is in the open air.
Do not use the sensor for a long time in a dirty and dusty environment
It is forbidden to cut or destroy the sensor
Use a sensor with the correct power supply
Specifications of carbon dioxide CO2 sensor
| Name | Description |
| --- | --- |
| Measuring range | 0 to 2000 PPM* |
| Response time | < 90 s |
| Operating temperature | From 0°C to 50°C |
| Air humidity during operation | From 0% to 90% |
| Operating voltage | 4.5 V to 5.5 V |
| Interface | Digital port, UART, PWM |
| Average current consumption | < 100 mA |
| Warm-up time | From 3 min to 5 min |
| Accuracy | 200 PPM* |
*PPM(number of parts per million, designation used to express concentrations, number of defects per million possibilities of their occurrence).