Description
The module is equipped with relays with latch / pulse HFD2 coil with a rated voltage of 5 V, which remembers the last state even after power loss. The system allows you to control actuators with microcontroller ports or any set. Works with voltage of 35 VAC and 35 VDC. The kit also includes a cable for Seeedstudio Base Shield v2.0.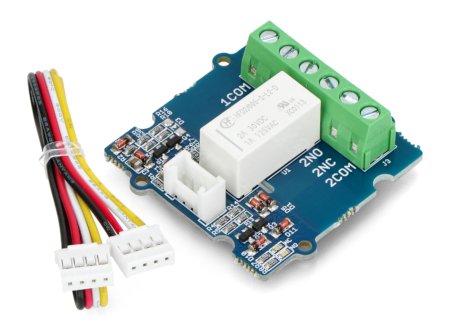 Relay with a latch
The module has a built-in relay with a latch. Changing the state of the relay is carried out by supplying a pulse to the appropriate pin. Hence saving energy. After power loss relay remains in last state memory.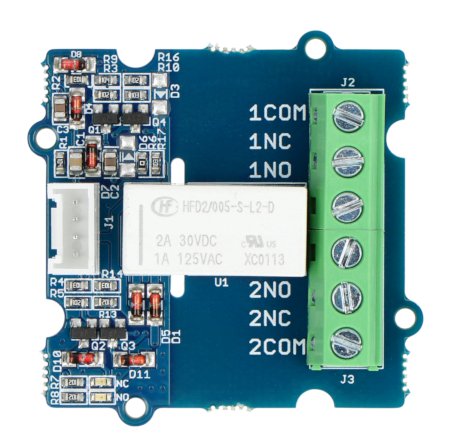 Connection
The module is equipped with Grove interface, which facilitates its connection to Arduino along with the Base Shield v2.0.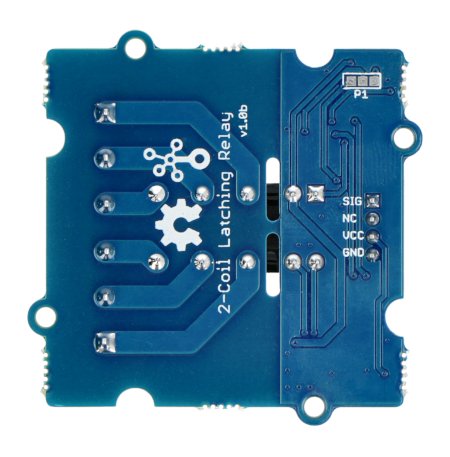 | Pin | Description |
| --- | --- |
| GND | The ground of the system. |
| VCC | The supply voltage of 5 V. |
| NC | Not connected. |
| SIG | A signal receiver. |
Specification
Supply voltage: 5 V
Type: latch - HFD2
Included pulse 4 V
Maximum contacts voltage: 35 V ~ / 35 V CURRENT
Maximum current: 3 A
Coil resistance: 167

Ohms

Dimensions: 130 x 90 x 15 mm
Weight: 20 g