Product description: xyz-mIOT 2.09 M95FA Quad Band GSM + HDC2010, DRV5032 module for Arduino and Raspberry Pi
Small modulecooperating withArduino, combining many possibilities to facilitate communication in IoT. It is equipped with 4 range GSM module M95FA, temperature and humidity sensorHDC2010and Hall effect sensorDRV5032. An additional ATSAMD21G microcontroller provides 13 I/O pins, UART, I2C, SPI interfaces and analog inputs. On the board you will find: a connector for SIM cards, a charging module forLiPol batteriesand a u.FL socket for mountingan external antenna.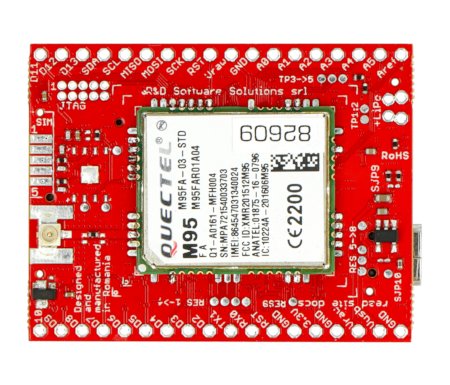 Elements layout on the xyz-mIOT board
Technical specification of the module
Microcontroller: SAM21 Cortex-M0+ 32-bit

Frequency: 48 MHz
RTC: 32.768 kHz
Flash memory: 256 kB
SRAM: 32 kB
13 I/O pins (voltage 3.3V)
12 with PWM capability
5 analog inputs
UART, I2C, SPI interfaces
8 external interrupts
Pin current: 7 mA

Built-in modem: Quectel M95FA
Supported standards: GSM
Frequencies: 850 / 950 / 1800 / 1900 MHz
SIM connector nano size
u.FL connector
Temperature and humidity sensor: HDC2010
Hall effect sensor: DRV5032
Built-in USB-UART converter: 4 pins
Built-in lipol charger module
Modem button: Power
Works withArduinoandRaspberry Pi
Board dimensions: 32 x 30 mm

Pinout description
The module has 5 analog pins, SPI, I2C, power supply, UART and digital pins. Additionally on the board there is a miniUSB connector, lipol charger, sensors and additional connectors for connecting i.e. vibration sensor.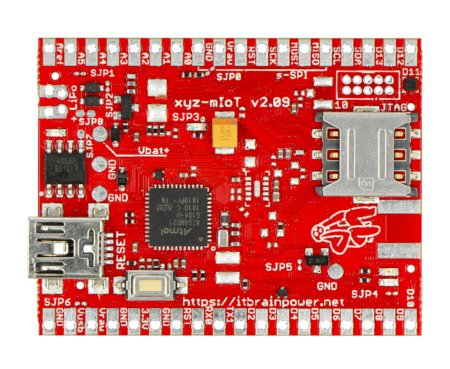 The manufacturer provides several versions of the module differing in built-in modem and sensors.
We recommend to checkour offer.