Product description: 75 '' interactive monitor - eBoard VE 7520TDQ PRO 4K SlimFrame - Vision Distribution
eBoard VE 7520TDQ PRO 4K SlimFrame is a 75 '' interactive whiteboarddisplay with multi-point , smooth touch operation. Equipped with upgraded IPS LCD matte anti-reflective panels that provide 10-bit color depth (1.08 trillion colors). The interactive board presents content in a resolution of 3840 x 2160 px 4K UHD . The displayed image is very realistic and detailed . The eBoard series monitors support HDR (High Dynamic Range Image), which allows you to view content in quality with an increased spread between the brightest and darkest points. As a result, the colors become more saturated and the details more distinct. The monitor also has an extensive system of audio-video interfaces (HDMI, AV, Display Port, VGA, yPbPr) and USB communication ports. Supports WiFi wireless communication and Android 8.0 system.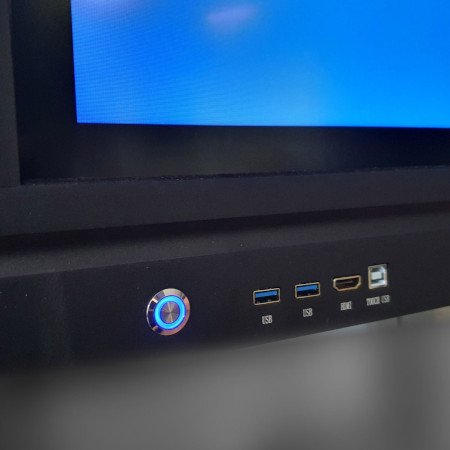 At the front of the monitor there is a backlit switch and the most necessary connectors.
Highlights of the eBoard monitor
Android 8.0 system and all-round system compatibility
High resolution 3840 x 2160 pixels and 4K matrix, which significantly improves the comfort of use
The life of the matrix is about 50,000 hours of use
Multi User - smooth multi-touch supported
10-bit color depth - displaying as much as 1.08 trillion colors
Contrast 5000: 1
EClass software included
PIP (Picture in Picture) and wide viewing angle
HDR (High Dynamic Range)
Android 8.0 on interactive monitors
EBoard monitors have Android 8.0 installed - with a new graphic design and equipped with a number of additional solutions that improve the comfort of use - primarily improve work and interaction. Among the most important advantages are:
Increased screen handling performance
Express installation of additional applications
Manual disk manager
Improved File Browser
Refined support for Bluetooth wireless communication
Complementing the PIP function - "picture in picture" - movie playback (ANDROID TV)
Support for monitors with an aspect ratio of 1:86
Support for AAudio, aptX, aptX-HD and LDAC audio codecs

Java 8 API


Project Treble - quick system updates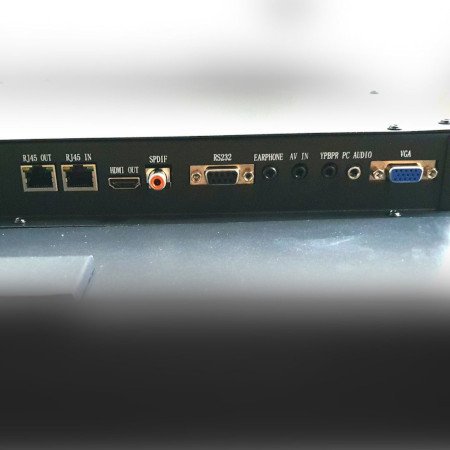 EBoard monitor connections.
VE-7520TDQ PRO 4K - functionality
PIP (Picturie in Picture) - the function of playing two movies at the same time
The ability to call the interactive whiteboard function in all monitor modes - creating notes, comments and others
Multi Screen - the function of displaying an image from a phone or tablet
Generating a QR code that redirects to a page with saved materials (e.g. from a conducted lesson)
Google Play TV Store - download free and paid applications
PC-USB connector for connecting, for example, a wireless keyboard that works on both devices at the same time
Wireless connectivity - WiFi in the 2.4 GHz and 5 GHz range, WLAN sharing in the 2.4 GHz range, Bluetooth communication
Possibility of expanding the monitor's memory thanks to a micro SD card (max. 64 GB)
Quick menu - the ability to go to any assigned function
Android system menu - sliding from the bottom and from the sides of the matrix, it provides the most frequently used functions
Action Center (slides out from the side of the monitor screen) - Get instant access to quick tools, apps, and more
What is the interactive whiteboard for - an overview of the functions
Brush function - setting roughness, thickness, transparency and brush effect
Eraser function - standard or lasso to choose from
Drawing - continuous lines, shapes, circles, squares, right triangles, isosceles and others
Ruler - allows you to change the position
Protractor - allows you to change the size and change the position
Photos - the ability to insert a photo from the device memory or external storage
Text - entering text with the possibility of configuring and styling parameters such as font, style and others
Switching between tabs - with additional menu options such as the ability to save or play a saved lesson
Ability to undo or return to the last action
Technical specification of the eBoard VE 7520TDQ monitor

Model

eBoard VE 7520TDQ

Diagonal

75 "

Touch precision

≤ 1 mm

Service

Pen, pointer, finger, any non-transparent element

Backlight type

D-LED

Resolution

3840 x 2160 px

Brightness

500 cd / m²

Contrast ratio

5000: 1

Response time

≤ 5 ms

Pixel size

0.124 x 0.372 mm

Refresh rate

60 Hz

Viewing angles

178 ° (H) / 178 ° (V)

Saturation (x% NTSC)

72%

Display area

1650.24 x 928.26 mm

Number of displayed colors

1.07 B (8bit)

Screen lifetime

50,000 h

Security

4 mm thick toughened glass, strength 7H on the Mohs scale

Matrix

Matte, anti-glare, anti-reflection with an external light intensity sensor

ChipSet

811 Hisi

System

Android 8.0

CPU architecture

CA53 x2 + CA73 x2

Processor operating frequency

1.5 GHz

Number of cores

Quad core

GPU

Quad-core MaliG51

RAM

4 GB DDR4 memory

ROM memory

32 GB as standard

Power Supply

100 V to 240 V / AC, 50/60 Hz 1.1A

Standby power consumption

≦ 0.5 W

OPS power supply

19 V DC / 5 A

Speaker power

15W x2

Power switch

x1

LAN output

x1

LAN input

x1

HDMI output

x1

COAX

x1

RS-232 connector

x1

OUT headphones

x1

Mini AV input

x1

Mini YPBPR

x1

PC-Audio input

x1

VGA input

x1

VGA and DP USB-Touch

x1

DisplayPort

x1

USB-Touch for HDMI

x3 (front x1)

HDMI input

x3 (front x1)

USB 3.0 connector

x3 (Front x2)

USB 2.0 connector

x1

TF card

x1

Working temperature

0 ° C to 40 ° C

Storage temperature

-10 ° C to 60 ° C

Air humidity during operation

20% to 80%

Air humidity during storage

10% to 60%

Recommended maximum use time (hours x days)

18 hours x 7 days

Net weight

58.9 kg

Product Dimension (L x D x H)

1717.4 x 100.3 x 1056.3 mm

VESA mount type

Hole for 4-M8 400 x 200 mm

Housing material (front frame / rear housing)

Aluminum profile / sheet

Coating color (front / rear frame)

Black

The language of the OSD menu

Polish / Chinese / Korean / English / and 10 other languages

WiFi antenna

x4

Pen

x1

Remote control

x1

User manual

x1

Quality certificate / warranty card

x1

Power cord

x1

USB cable

x1

HDMI 5M cable

x1

Wall bracket with installation accessories

x1 set