Product description: Smart LED ceiling lamp wifi - TD25
Ceiling spotlight lamp controlled via a smartphone app or as an part of a smart home system. It has a driver with a wi-fi module, through which it can operate without requiring additional wiring. It features 20 white LEDs 2835, which can give a total of 550 lumens of light. Additional 7 LEDs RGB 5050 allow you to choose any highlight color from a palette of more than 16 million colors.

Smart light with power supply with WiFi
To control the smart lamp, there are many universal apps, for example, DoHome, which allows you to freely control the color of light and its power, as well as enables remote shutdown and power on. In addition, the device works with Google Home and Alexa, so you can connect it to a home network smart device and operate it using voice commands.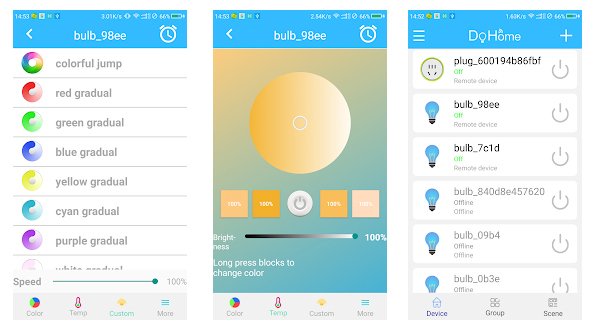 The possibility of lighting control of the smart lamp with DoHome application
It should be noted that the lamp does not require additional devices to function. Without connecting to the WiFi network after switching on the lamp will be lit with warm white light.
Technical characteristics of the smart ceiling lamp LED WiFi - TD25
Types of LED:

RGB 5050 - 0.2 In (7 PCs.)
3000 K: 2835 - 0.5 V (20 PCs.)

Width of mounting hole: 70 mm
The depth of holes for installation: 33mm
Width: 100 mm
Lamp height: 38 mm
Beam angle: 90

°

Brightness: 550 lm

Power consumption: 12 V