Product description: 3-axis magnetometer - MMC5983MA - Qwiic - SparkFun SPX-19034
3-axis magnetometer equipped with the MMC5983MA system from the MEMSIC company. It is characterized by high sensitivity , it can detect up to 0.4 mG , while ensuring the accuracy of the course at the level of ± 0.5 ° . The maximum data rate is up to 10kHz , the FSR is ± 8G, and the resolution is 18-bit . The module also has a built-in demagnetization circuit that removes any residual magnetization that is a common problem in magnetometers. The module was manufactured by the SparkFun company and belongs to the series of SparkX prototype products.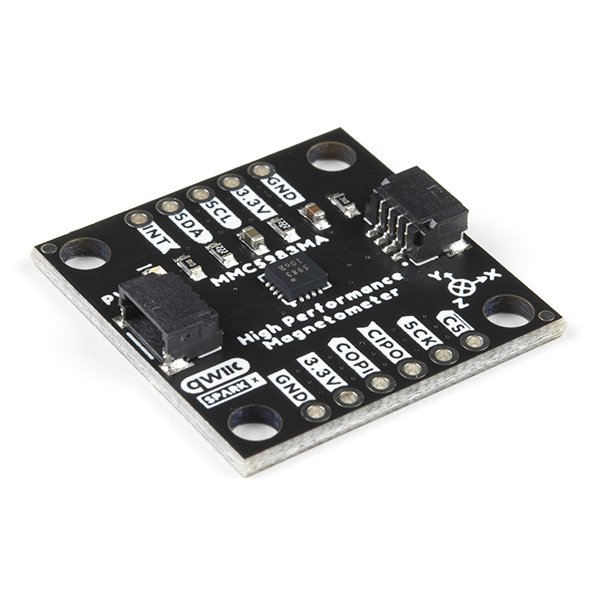 3-axis magnetometer - MMC5983MA - Qwiic - SparkFun SPX-19034.
The SPX-19034 is an experimental product and is part of the SparkX prototype product line from SparkFun . Modules in this series are advanced solutions that are not used in regular production. They are produced in very small amounts. They are tested by SparkFun, but have no technical support and are not covered by the warranty.
Pinout description
The module has outputs in the form of solder pads , located on both sides of the printed circuit board, and two Qwiic connectors.
GND - the ground of the system
3.3V - power supply
SCL - data line of the I2C bus
SDA - clock line of the I2C bus
INT - interrupt pin
CS - Chip Select selection pin
What is Qwiic?
Qwiic SparkFun is an ecosystem that includes numerous sensors based on the I2C bus , executive modules and dedicated cables. The main assumption of this solution is to improve the prototyping process. All elements supporting the Qwiic standard use a common, 4-pin JST connector with a spacing of 1 mm . This reduces the amount of space required on the PCB. It also protects against connection inconsistent with the polarity.
Technical specification of the module
Type: magnetometer
Built-in chip: MMC5983MA by MEMSIC
Measurement range: 3-axis X, Y, Z
Communication interface: I2C bus and SPI interfaces
FSR: ± 8G
Measurement resolution: 18 bit
Total RMS Noise: 0.4mG
Course accuracy: ± 0.5º
Maximum data rate: up to 10kHz
Built-in temperature sensor
Data_Ready internal interrupt
What is a Magnetometer?
What is a magnetometer? What is a magnetometer for? It is a special research device that is used to very accurately determine the magnetic field, i.e. to measure its direction and size. Why do I need a magnetic field measurement? Thanks to it, you will be able to determine the coordinates and orientations of an object, e.g. a drone or a robot.