Product description: MyoWare 2.0 Link Shield - MyoWare 2.0 muscle sensor adapter for Arduino - SparkFun DEV-18425
A module that allows you to connect the EMG MyoWare 2.0 muscle sensors to the Arduino microcontroller board. The board is equipped with a 3.5 mm TRS jack connector , so you can use the TRS - TRS (minijack) cable to connect the boards. On the MyoWare 2.0 adapter board, there are three circular connectors with which the MyoWare 2.0 boards are connected into a so-called sandwich. The board is also equipped with two slide switches . One of them is dedicated to switching the power supply, while the other is used to select the modes: raw EMG (RAW), rectified (RECT) or envelope (ENV). Two status LEDs inform about power supply and signal. For proper operation, it is required to use the MyoWare 2.0 shield for Arduino equipped with TRS connectors (minijack) and a module with pins compatible with Arduino Uno R3 .
Warning!
MyoWare 2.0 and Cable Shield are not intended to diagnose, cure, alleviate or prevent disease or other conditions in humans or other animals.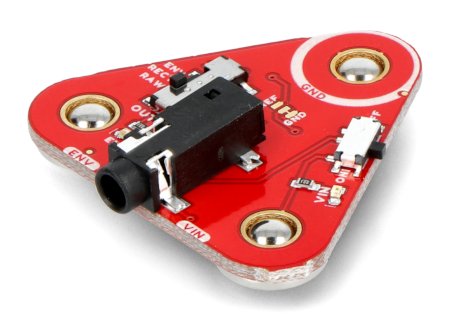 MyoWare 2.0 sensor adapter.
MyoWare 2.0 ecosystem
The MyoWare 2.0 ecosystem consists of overlays that can be easily combined with muscle sensors and Arduino to create a universal electromyography (EMG) sensor. The innovative connector system allows the modules to be snapped on easily, and the analog 3.5mm TRS jack connector is used to connect to a microcontroller with which the raw, filtered and rectified electrical activity of the target muscle is measured. This eliminates the need to solder the joints between the boards.
The manufacturer has prepared a detailed user guide for the MyoWare 2.0 ecosystem.
Specification of the MyoWare 2.0 muscle sensor adapter
Connector: TRS Jack 3.5mm
Switch:

ON / OFF power supply
RAW / RECT / ENV output selection

LED indicator:
MyoWare 2.0 muscle sensor connector

3x female snap-on connectors (power output and EMG Envelope)

GND jumper
Dimensions: 37.57 x 35.90 mm
Kit contents
1x MyoWare 2.0 Link Shield - MyoWare 2.0 muscle sensor adapter for arduino - SparkFun DEV-18425
‌