Product description: Microphone Natec Giraffe 2 - black
The Giraffe 2 multidirectionalmicrophonefrom Natec inblack. It is powered by a1.8 mlong cable terminated with a 3.5 mm mini jack. It is designed for gamers, streamers, as well as ordinary users who are talking through all kinds of communicators. It is also suitable for recording in the home studio. The microphone provides a clean and clear audio transmission.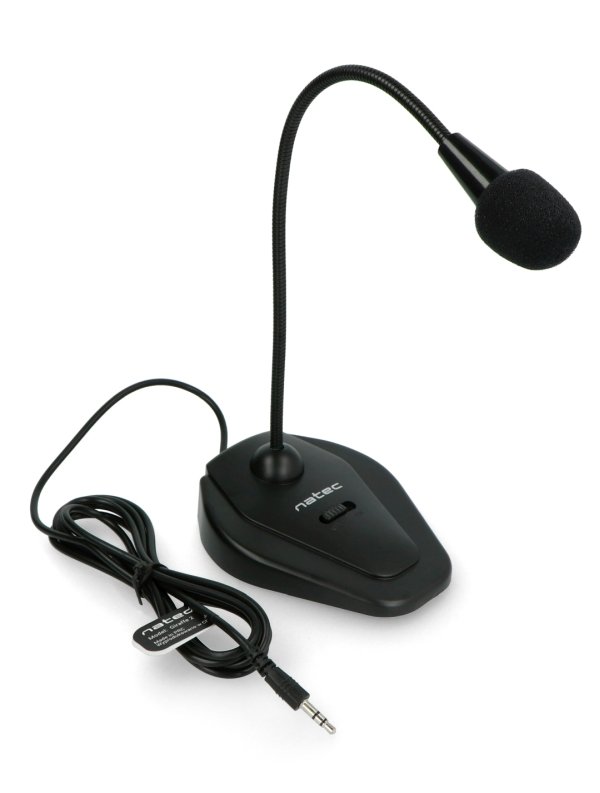 NatecGiraffe 2 microphone - black.
Irreplaceable for players
Giraffe 2 is an ideal solution for every player. It is perfect for online gaming. It doesn't take up a lot of space, you can turn it in any direction thanks to itslong and flexible bow.Additionally, the microphone is equipped with anOn/Offswitch.
Giraffe 2 microphone specifications
Manufacturer: Natec
Model: Giraffe 2
Colour: black
Microphone type: dynamic, omnidirectional
Microphone sensitivity: -55 dB ± 2 dB
Backlighting: no
Microphone frequency range: 20 to 20000 Hz
Communication: wired
The connector: 3.5 mm mini jack
Cable length: 180 cm
Impedance: 2200 Ohm
It has a flexible handle, non-slip stand, On/Off switch
Dimensions: 10 x 8.5 x 26.5 cm