Product description: WiFi alarm siren with temperature and humidity sensor
Universal device foralarmingindoors. It has a sound levelof 100 dB,as well as atemperature and humiditysensor.It reacts to activation from any Neo sensor.The product works wirelessly. It is very easy to install and use. It cooperates with GoogleHomeand Amazon Alexa.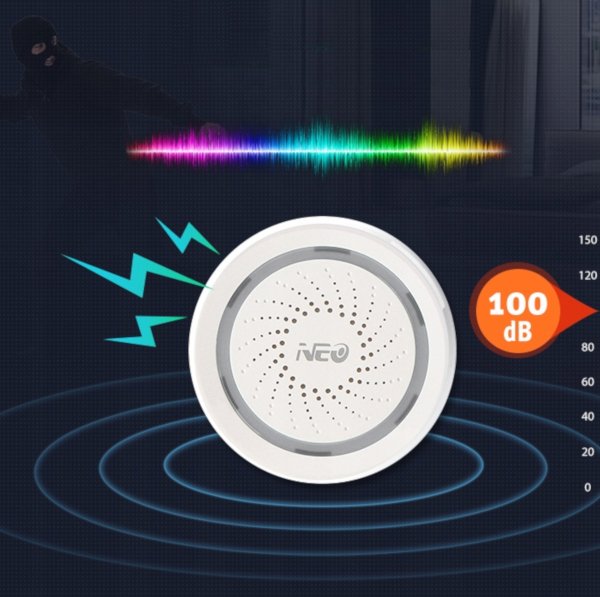 Small design, great possibilities
Loud alarm: 100 dB
WiFi connectivity: 2.4 GHz
WiFi range: up to 40 m
Aesthetic casing
Easy installation and configuration
Temperature and humidity sensor
Very energy-efficient - can work for up toa year on two batteries!
A smart home at your fingertips!
The device works with TuyaSmart -the most popular application for IoT devices (Internet of things)
Binding more than 11000 different devices together
30 categories (control, air conditioning, monitoring, etc.)
10000 manufacturers of intelligent devices
Daily development with new features and supported devices
Tuya Smart appavailable for free for Android andiOS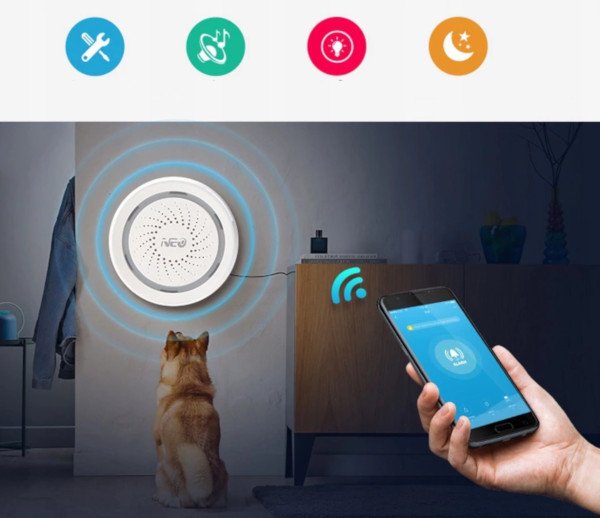 Available functions
Selectable signal sound
Timer- possibility to set any detection time
Schedule- possibility to plan the detection on a weekly basis
Scenes- Control dependencies can be set according to time of day
Included
Alarm siren
MicroUSB - USB cable, 125 cm long
Mounting elements
Operating instructions
Attention!
No batteries or power supply included. Batteries must be purchased separately, and the device uses any publicmicroUSB phonecharger.
We recommend theCR123A (3 V)lithium batteries.
WiFi alarm siren specifications
Control range: unlimited (works with mobile internet)
The WiFi band: 2.4 GHz
WiFi range: up to 40 m (depending on ambient conditions)
Operating temperature: 0°C to 50°C
Power supply:

2 batteries CR123A (3 V)
MicroUSB - 5 V

Power consumption at rest: 10 µA
Transmitter type: piezoceramic
Sound level: 100 dB
Temperature measurement from -10°C to +80°C
Measuring humidity in the range from 1% to 100%
Dimensions: 65 x 65 x 30 mm
Weight: 50 g