Product description: RFID wall reader UW-R4G - 13.56 MHz
A wall-mounted RFID transponder and proximity card reader.Works on13.56 MHzfrequency. Supports MIFARE standards: Classis, Plus, Ultralight C, DESFire iCLASS (CSN only), ICODE SLI. UW-R4G has RS485 interface with Netronix and MODBUS-RTU transmission protocol. The reader is equipped with a buzzer, relay, two signaling diodes, antenna and RTC clock.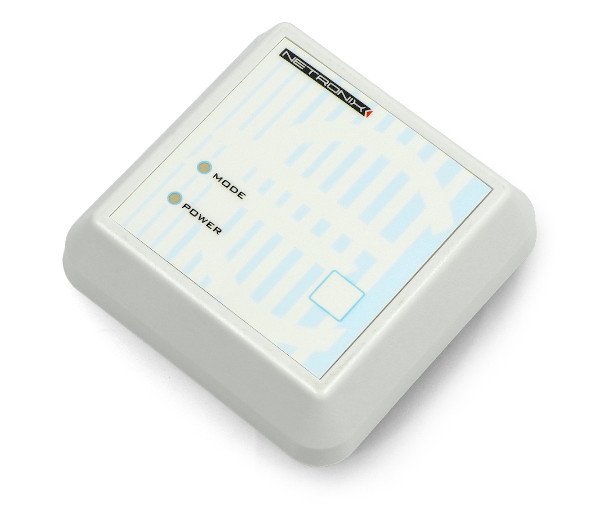 Wall RFID reader UW-R4G - 13,56MHz.
The UW-R4G has acard memory with a built-in lock controllerand event memory with the possibility of masking power sources. Built-in pin allows you to synchronize the readers working closely together. The reader is equipped with a built-in tamper with a spring and a button to return to factory settings.
Supported functionalities
Supported functionalities depending on card type (transponder)
MIFARE card type
Reading the ID number

Full write and readout

memory blocks

Handling by internal

Bolt driver

S50
Yes
Yes
Yes
S70

Yes

Yes

Yes

Plus S, Plus X
Yes
Yes. (SL1, SL3)
Yes
Ultralight
Yes
Yes
Yes
Ultralight C
Yes
Yes

Yes

DesFire
Yes
Yes
Yes
iClass
Yes. (CSN)

No

Yes

I-CODE

Yes

Yes

Yes
Specification of the UW-R4G wall reader
Supply voltage: 8 V to 16 V
Maximum supply current: 200 mA
Maximum current of open collector type outputs: 1 A
Maximum total output current: 2 A
Frequency of module operation: 13.56 MHz
Reading distance of transponders: up to 8 cm
Supported communication interfaces: RS485, MODBUS-RTU protocol
Addressing on RS-485 bus
Two-state input and output configuration function
Function to control two-state outputs
Reading function of two-state inputs
Built-in configurable buzzer, relay and two LEDs
Built-in RTC clock
Dimensions: 82 x 82 x 22 mm
Set contents
RFID wall reader UW-R4G

Screw connections
Mounting accessories (dowels and screws)