Product description: UNI-T laser distance meter LM60 - 60m
A distance meter measuring up to 60musing the laser method. The UNI-TLM60distance meter, in addition to distance measurement, measures surface, volume, using Pythagoras claim. The data is displayed on the EBTN 2" screen.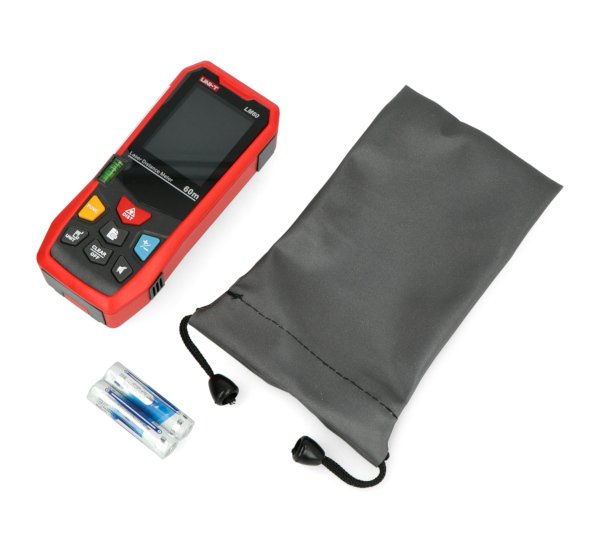 The UNI-T LM60 laser distance meter also comes with a cover and two AAA batteries.
Specification of the UNI-T LM60 distance meter
Display type: EBTN
Diagonal display: 2"
Range: 60 m
Measurement unit: meters / feet / inches
Measuring base: front / rear of meter housing
Accuracy: ±(2

mm + 5 x 10^(-5) D)

Laser class: 2

Beam length: 630 nm to 670 nm
Functions:

single measurement
continuous measurement
surface measurement
volume measurement
measurement using Pythagoras claim (indirect / direct)
addition / subtraction
recording of measurements: 20 groups
automatic shutdown: after 3 minutes.
Automatic laser shutdown: after 30 seconds
automatic switch off the backlight: after 10 seconds
buzzer
battery charge indicator

Dimensions: 122 x 52 x 30 mm
Weight: 240 g