Product description: Flat HAT Hacker - Raspberry Pi 400 pinout - Pimoroni PIM536
Overlay produced by Pimoroni. The board allows to lead out GPIO pins fromRaspberry Pi 400GPIO pins which are difficult to access due to their 90° location in the keyboard.Flat HAT Hackeroverlay leads out pins, making access and mounting additional overlays easier. Thanks to Flat HAT Hacker you can connect e.g. display communicating through Raspberry Pi GPIO pins or HiFi sound card. The board has 40goldpin male pins solderedin and 40 holes placed in the centre of the board. Pins in the center of the board are labeled, which makes finding the right pin much easier. Module is also equipped with mounting holes, which allows to mount more pads in stack. Additionalgoldpin connectorsto solder into holes in the central part of the board andspacersto separate more pads can be purchased separately.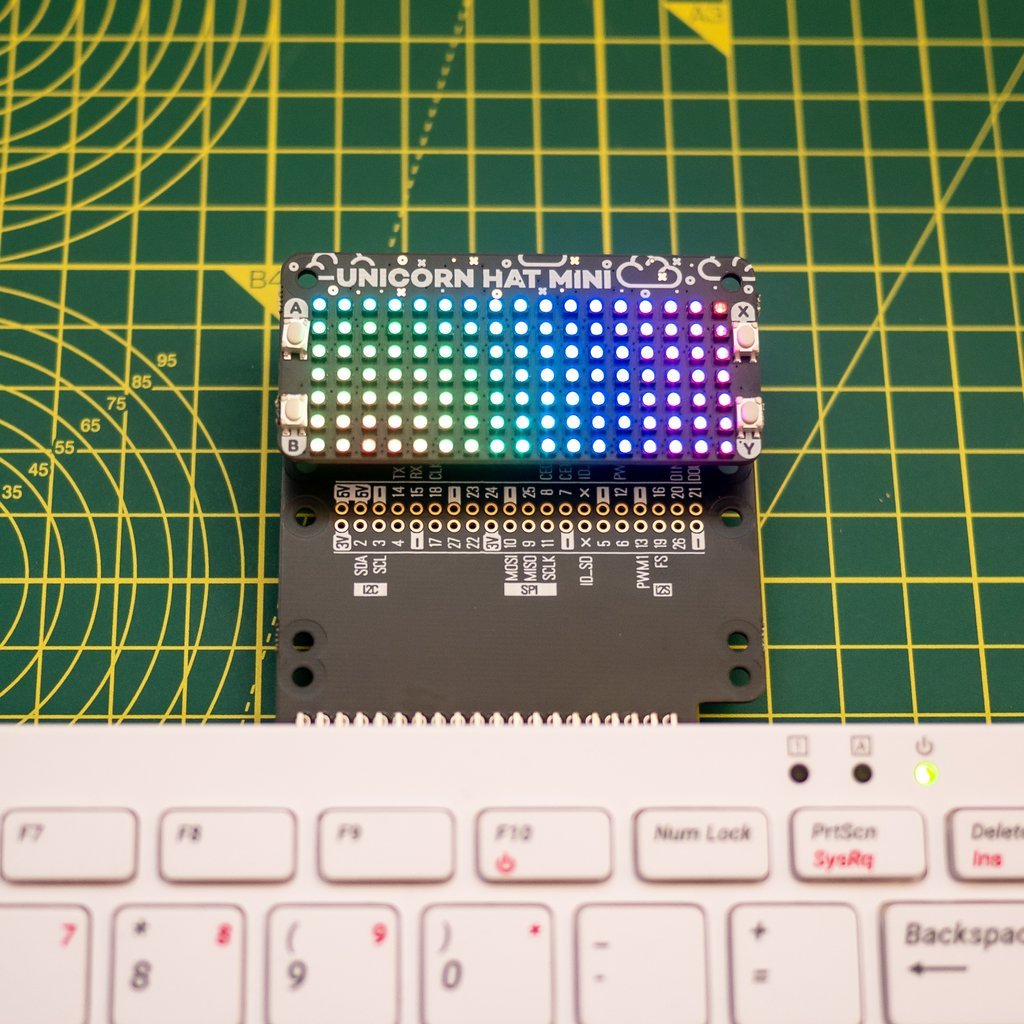 Flat HAT Hacker overlay with RGB LED display. The sale item is the overlay, theRaspberry Pi 400minicomputer and Unicorn Hat Mini can be purchased separately.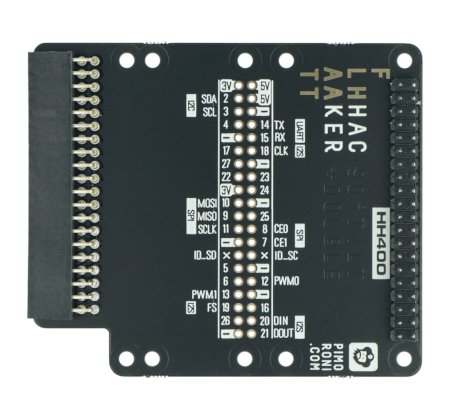 Overlay with labeled pins in the middle of the board. Male goldpin connectors have been soldered on the edge of the module, while the center of the module has holes for you to solder the pins yourself.
Main features of Flat HAT Hacker overlay
GPIO connector with soldered female strip with 40 pins.
GPIO connector in the central part of the overlay without soldered pins.
GPIO connectors in the central part have labeled pins, which makes finding them much easier.
10 mounting holes
Mounted angle connector to plug in GPIO connectors of Raspberry Pi 400
Soldering is only required when pins are mounted in the middle part of the cap
Notes
If you wish to use more overlays, please check for pin conflicts. ThePinout.xyzwebsite andpHAT Stack Configuratorcan be used for this purpose.
The overlay can also be used with standard versions of theRaspberry Piequipped with a 40-pin GPIO connector.