Product description: Mini PiTFT - 1,14'' 135 x 240 px IPS display - for Raspberry Pi - STEMMA QT - Adafruit 4393
Mini PiTFTis a colordisplaycompatible withRaspberry Piminicomputer. It is equipped withST7789chip. The resolution of the display is135 x 240 pxand the diagonal is1.14''. The compact device is manufactured by Adafruit and its dimensions are equal to38.6 x 24.5 x 7.6 mm. The display panel is additionally equipped withtwo utility buttons. Made inIPStechnology, the display provides properly contrasted image and intensity of presented colors. Moreover, Mini PiTFT is equipped with STEMMA QT / Qwiic connectors, which enable expansion of the project. It can be programmed using one of the fastest growing languages in the programming environment -Python.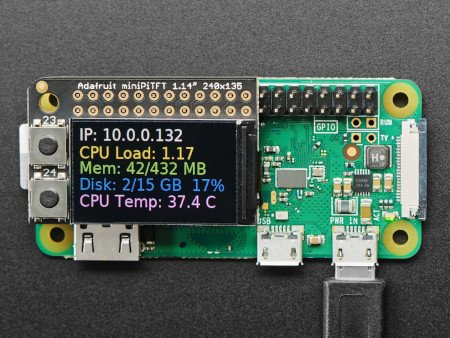 The subject of sale is the Mini PiTFT display from Adafruit to the Raspberry Pi minicomputer.The Raspberry Pi modulecan be purchased separately in our store.
Description of GPIO pins used
5.0V- connected to illuminate the display.
3.3V- connected to power the display and also to the STEMMA QT / Qwiic connector.
GND- common ground of the chip.
SDAandSCL- I2C communication interface bus pins for STEMMA QT / Qwiic connector.
GPIO22- used for switching display backlight on and off.
GPIO23andGPIO24- leads connected to two utility buttons.
SCK,MOSI,CE0andGPIO25- pins used to control the display.
GPIO4,GPIO17,GPIO27- pins not used.
Technical specification of Mini PiTFT display
Embedded chip: ST7789
Compatible with Raspberry Pi
Type: TFT IPS
Screen diagonal: 1,14''
Display resolution: 135 x 240 px
Display Speed: ~ 15 FPS
Connector standard for additional peripherals: STEMMA QT / Qwiic
Communication interface: SPI
Development platform: Python programming language
Properly selected contrast of the displayed image
Equipped with two additional usable buttons
Dimensions: 38.6 x 24.5 x 7.6 mm
Weight: 6.6 g