Description: Myriapod Legion set for Q-Scout 3 in 1
A set that extends the capabilities oftheQ-ScoutRobobloqeducational robot. Allows you to redesign and change the appearance of the Q-Scout Robot. The 3-in-1 package enables the construction of three versions: Frog (Frog), Shrimp (Mantis Shrimp) and Beast (Beast). The Myriapod set for the Q-Scout robot iscompatible with STEAM/STEM teaching methods. The set consists of 116 elements.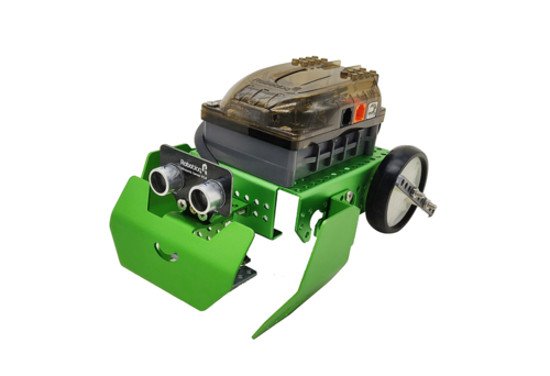 A complex 3-in-1 Q-Scout robot.
Control with phone or tablet
The Q-Scout robot will be perfect as anintroduction to programming for children.It is simple and intuitive - it is based on the "drag and drop" method using pictures with instructions in a dedicated application. While playing with the robot, the youngest learn the basics of electronics and programming and learn to think logically through practical problem solving. Control and programming is done from the mobile application.
Main features of Myriapod set
Easy to use- the instructions available with the application describe how to assemble a set in 10 minutes.

High quality and safety for children- the extruded aluminium construction and anodised surface make the robot components resistant to injury.
Learning to think logically- solve problems through practical exercises.
A QR code for downloading the full manual is included on the packaging.
The set includes
8 x M4*30 screw
5 x M4*20 screw
15 x M4*15 screw
15 x M4*9 screw
5 M2.3*8 threaded bolts
2 x angle plate 135°

5*1/3*1

hole
4 x plastic strut ϕ4*7*16
4 x plastic strut ϕ4*7*2
4 x plastic strut ϕ4*7*10
20 x safety nut M4*5
15 x safety nut M4*5
2 x flat bar 15 holes
4 x flat bar 13 holes
4 x flat bar 11 holes
2 x flat bar 6 holes
2 x rectangular plate 3*7 holes
2 x rectangular plate 3*5 holes
2 x wheel
Socket wrench

The elements are packed and marked separately.