Product description: RTC WatchDog HAT - overlay with High Precision RTC module for Raspberry Pi - Waveshare 20374
RTC WatchDog HAT overlay equipped with DS3231 chip - high precision real time clock. Compatible with Raspberry Pi series and Jetson Nano module. It has built-in MAX705 monitoring chip with auto reset function. Communicates over I2C bus. Allows you to read time in the form of hour, minute and second and date: month, day, year.
Product compatible with Raspberry Pi!
On the manufacturer's website you will find a product wiki page that makes it easy to get started with the overlay.
Layout of components on the overlay
USB type C power input
MAX705 auto-reset monitor chip
Watchdog output (1: on, 0: off)
CR1220 battery socket
Watchdog output warning (LED lights up if Watchdog is overflowing)
Raspberry Pi 40PIN GPIO
DS3231 high precision RTC chip
Selectable Watchdog reset pins
Control interface for use with other host boards
What is the RTC module used for?
RTC stands for Real-Time Clock and describes a real-time clock. RTC modules provide up-to-date date and time information - regardless of the operating state of the device, e.g. during current operation, lockout or shutdown. They also provide information when power is not supplied. They are used in simple watches and alarm clocks, and even in smart home control panels and measurement data loggers.
Description and pinout
3V3 - power supply pin 3,3 V
5V - power supply pin 5 V
GND - system ground
SDA - I2C bus data line
SCL - I2C bus clock line
D27 - RTC interrupt pin
D22 - Watchdog overflow
D4 - Watchdog RESET
D23 / D18 / D17 - backup reset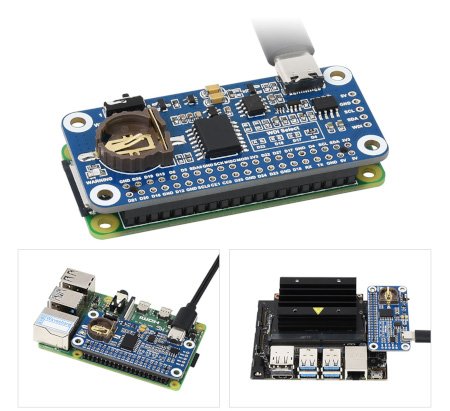 Example of overlay connection with Raspberry Pi and Jetson Nano - modules to be purchased separately.
Technical specification RTC WatchDog HAT
Type: overlay for Raspberry Pi and Jetson Nano
Type: high precision RTC module
Built-in chip: DS3231
Automatic reset: yes (MAX705 chip)
Communication interface: I2C bus
Slot for battery: yes
Battery type: CR1220 (not included)
Module dimensions: 65 x 30.5 mm
Set contents
RTC WatchDog HAT - overlay with RTC High Precision module - for Raspberry Pi - Waveshare 20374
Header 2x20 - female
Nylon spacers - 2 pcs.
Screws for spacers - 5 pcs.