Description
A digital sensor that detects objects by using IR with the 8x8 thermocouple array, capable of independent determination of the temperature, such as thermal imaging camera but with lower resolution. It detects the human body at approx. 7 m. It communicates via the I2C bus (QWIIC connector), it is powered with the voltage from 1.6 to 3.6 V.
Specification
Supply voltage: from 1.6 V to 3.6 V
Current consumption: 4.5 mA

Thermopile Array: 8x8 - 64 px

Temperature range: 0 °C to 80 °C
Accuracy:

± 2.5 °C

Human detection distance: approx. 7 m

Interface: I2C - embedded QWIIC connectors
Board sizes: 26 x 26 mm
Communication
The sensor has five pins for self-installation of goldpin connectors - pitch of 2.54 mm (not included).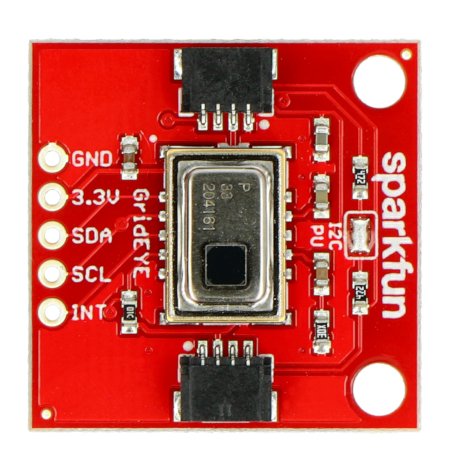 | Name | Description |
| --- | --- |
| GND | The ground of the system. |
| 3V3 | The module's supply voltage from 1.6 V to 3.6 V. |
| SDA | Data line of I2C. |
| SCL | Clock line of I2C . |
| INT | Interrupt, digital output |