Product description: LOGO! 8 DM8 24R - Digital Input/Output Module - Siemens 6ED1055-1HB00-0BA2
The module expandsSiemensLOGO! PLCs with an additional4 digital inputsfrom 5 V to 12 V and4 digital outputs / relays3 A for inductive load and 5 A for resistive load. The DM8 24R is supplied with 24 V, mounted on a 35 mm DIN rail and enclosed in an IP20 rated housing. The relay outputs have no short-circuit protection. TheLOGO! PLCsare used in industrial automation for machine control and in building automation. The module is compatible with LOGO! version 8 or higher.
What is PLC?
PLC - programmable logic controllers, which are devices equipped with microprocessors, designed to control all kinds of devices and machines. They are used primarily in industrial automation, but are also used in all kinds of building automation. The controller must be matched to a specific control object. One of the most popular PLCs is the SiemensLOGO!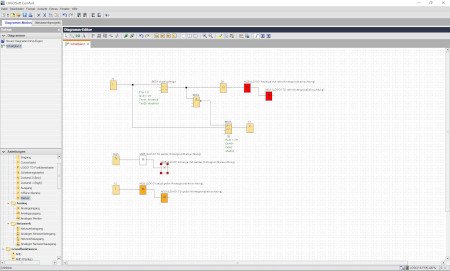 LOGO Soft Comfort V8 program interface.
How to program a PLC?
The Siemens LOGO! PLC and expansion modules can be coded and configured using the manufacturer's software LOGO! Soft Comfort V8on the DVD. With its help, it is possible to program the LOGO! PLCs of the Siemens brand in an easy and user-friendly way. The software allows you to create user programs by selecting the appropriate functions and connecting them bydrag&drop.
LOGO! DM8 24R specification
Supply voltage
24 V
Number of digital inputs
4
Input voltage for signal "0"
up to 5 V DC / AC
Input voltage for signal "1"

from 12 V DC / AC

Input current for signal "0"
1.1 mA
Input current for signal "1"
2.63 mA
Number of digital outputs / relays
4
Short-circuit protection
no
Output current for signal "1"
5 A
Minimum load for signal "1"
100 mA
Switching current inductive load
3 A
Switching current resistive load
5 A
Operating temperature
from -20°C to 55°C
Protection class
IP20
Dimensions
35,5 x 90 x 58 mm