Description: Filament Fiberlogy FiberSilk 1.75 mm 0.85 kg - Yellow
Waterproof Fiberlogyfilamentinyellow, packedtightly together with a moisture absorber. Net weight of the product is0,85 kg. The filter fits all3D printersthat are not equipped with locks preventing the use of cartridges from external manufacturers. FilamentFiberSilk, is distinguished by its high strength and impact resistance, very good combination of layers during printing. Visually, the coating of printed objects is characterized by a silky, metallic glow, which allows to bring out all the refractions and curves. It is designed for 3D printing inFFF / FDMtechnology. The diameter of the filament is1.75 mm. The filament can be used for printing various decorations, decorations, parts of costumes or cosplay accessories.
For each material in our offer, weoffer ready-madeprofiles for the Cura program,which allow you to use the filament immediately and without any configuration. For this purpose we import a file dedicated to a specific model.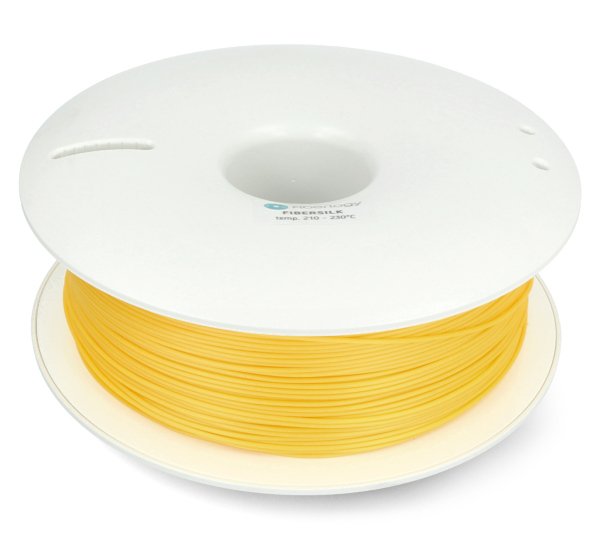 Fiberlog FiberSilk 1.75 mm 0.85 kg - Yellow.
It is possible to notice a noticeable swelling of the material coming out of the nozzle while loading or printing the file. However, this is a completely natural effect, which results from the surface tension of the polymers that are part of the filament material. For better effects, the manufacturer recommends setting a high airflow during printing and lowering the printing speed.
Suggested parameters of the filament printing
| | |
| --- | --- |
| Printing temperature | From 210°C to 230°C |
| Table temperature | From 50°C to 70°C |
| Print speed | From 35 to 60 mm/s |
Due to design differences between printers, the above data should be treated as a guide and the corresponding values should be determined experimentally.
Technical specifications and physical properties of the pillar
Parameter
Scope
Diameter of pillar
1.75 mm
Dimensional tolerances of the philanthropy
+/- 0,02 mm
Colour
Yellow
Printing temperature
From 210°C to 230°C
Table temperature
From 50°C to 70°C
Spool - material
FiberSilk
Reel diameter
200 mm
Reel width
80 mm
Mounting hole diameter
52 mm
Moisture absorber
Yes
Vacuum packing
Yes
Roundness
+/- 0.01 mm
Packaging dimensions
205 x 205 x 90 mm
Net weight
0.85 kg