Product description: 600 lm LED headlamp - Esperanza Cree T6 Gemini
Powerfulheadlampwith600 lmlight output. Equipped with the originalCree T6 LED. The maximum range of light is400 m. The flashlight allows you to easily adjust the tilt angle and adjust the light output zoom in and zoom out. It can also work in one of three selected modes: maximum, minimum and flashing. The torch's casing is made of durable aluminum. Comfortable harness adapts well to the shape of the head. The product is extremely useful both in the home workshop and during field trips.EsperanzaUrsa is powered by4 AA batteries,which are not included in the kit.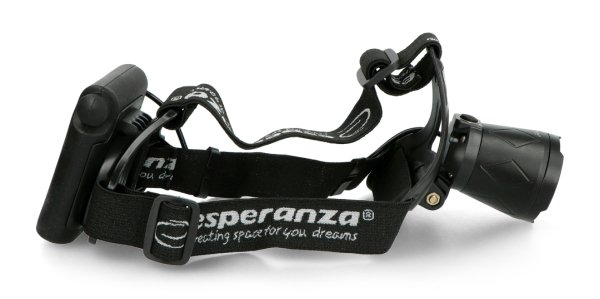 LED 600lm headlamp - Esperanza Cree T6 Gemini.
Specification of the Esperanza Gemini headlamp
Material: aluminium, plastic
Light source: 1 x LED T6
Power: 3 W
Light flux: 600 lm
Maximum range of light: 400 m
Diode life: 50 000 hours
The product is waterproof, shock and dust resistant
Adjustable light angle
Three lighting modes: maximum, minimum and pulsating
Adjustable zoom in and zoom out light output
Power supply:4 x AA battery(not included)
Attention!
The kit does not includeAA batteries. They can be purchased separately.