Product description: Tuya WiFi natural gas sensor - 230 V
Awhite naturalgasand methanesensor.It communicates viaWiFiwith a smartphone from anywhere on earth. It informs about a gas leak through theTuyaapplication. Very easy to install and use. It is powered from a230 Vsocket. The device connects wirelessly to other elements of the smart home system, located in one "cloud" environment.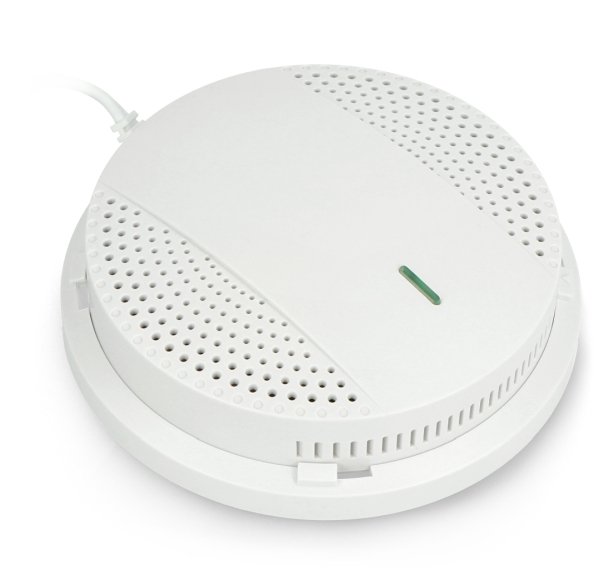 Tuya WiFi natural gas sensor.
It is best suited for rooms witha higher risk of gas leakage, i.e.: gas boiler rooms, bathrooms, kitchens, rooms heated by portable gas stoves, rooms where gas devices such as gas cylinders, tanks, pipes, as well as school chemical laboratories are stored.
Contents of the set
Natural gas sensor

Mounting screws and studs
Operating instructions
Natural gas sensor specifications
Control range: unlimited (works with mobile internet)
The WiFi band: 2.4 Ghz
WiFi range: up to 40 m (depending on ambient conditions)
Operating temperature: 0°C to 50°C
Supply voltage: 210 V to 240 V AC
Power consumption at rest: ≤ 100 mA
Power consumption during the alarm: ≤ 150 mA
Dimensions: Ø 128 x 34 mm
Weight: 50 g