Product description: RB-33B Universal meter Rebel
RB-33B meter by Rebel is a simple in use device which enables making DC, AC voltage and resistance measurements. It is also equipped with functions which allow to use the meter as acontinuitytester,batteryanddiodetester. The meter is equipped witha largeblackknobfor manual adjustment of measurement ranges. The device is also equipped withData HOLDfunction, which allows you to freeze the last measurement. All measurements are displayed on a large, backlit LCD display with a maximum reading of1999. The screen also displays information about reversed polarity and low battery. The device is powered bya 9 V battery.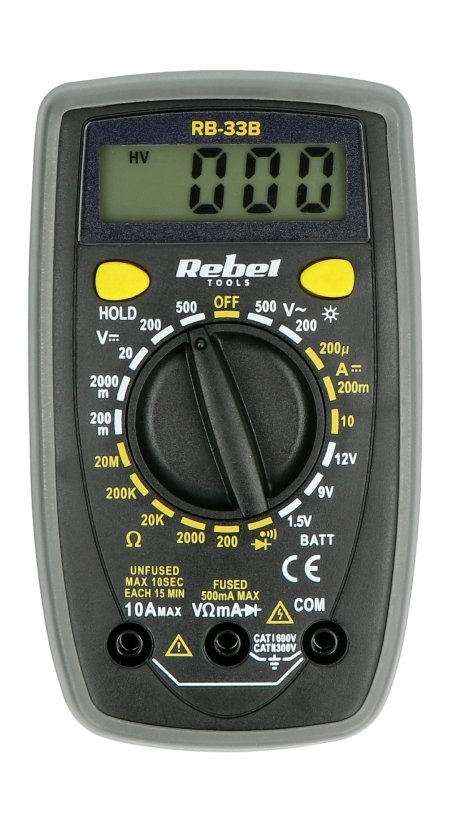 The meter is equipped with a large LCD display.
Features
The device is equipped with a fuse on the rangeV / mA / Ω.The sampling frequency of the meter is about 2 times per second. The meter is equipped with an automatic polarity detection function. In case of polarity reversal the"-"symbol is displayed in front of the measured value. RB-33B is also equipped with physical buttons used to start backlight andData HOLDfunction. In the rear part of the device there is also a flap, which can be used as astand foreasier positioning of the meter in comfortable for the user position.
Technical specification
Parameter
Range
DC voltage
200 mV / 2000 mV / 20 V / 200 V / 500 V
AC voltage
200 V / 500 V
DC DC current
200 µA / 200 mA / 10 A
AC alternating current
no
Resistance
200 Ω / 2000 Ω / 20 kOhm / 200 kΩ / 20 MΩ
Capacitance
no
Inductance
no
Frequency
no
Temperature
no
Automatic range selection
no
Standby mode
no
Sounder
no
Transistor tester
no
Diode tester
yes
Battery tester

yes,

1,5 V / 9 V

Data Hold function
yes
Battery indicator
yes
Illumination
yes
Display
LCD 1999 (45 x 21 mm)
Dimensions
160 x 76 x 32 mm
Power supply
9 V battery (included)
Weight
150 g