Attention!
The product has been discontinued. Check other products in category.
Description
Device allows you to see the reality in the IR. Camera reads temperatures rangingfrom -40 °C to 330 °Cat a distance ofup to 275 mand display an image on the built-in,2.4" LCD screen.  Reveal XR also hasa built-in flashlight. The device is used, e.g. in the study of heat distribution in buildings. Device has a bolometric matrix with a resolution of206 x 156 px.
What the camera sees?
Device shows an image of reality, as can be seen in electromagnetic waves with a frequency slightly lower than the human eye can see. Because of this, instead of colors, on the display, you can see the temperature of the environment. The camera detects temperature in the range of from -40 °C to 330 °C at the distance of up to 275 meters. Below are photos taken in the infrared range.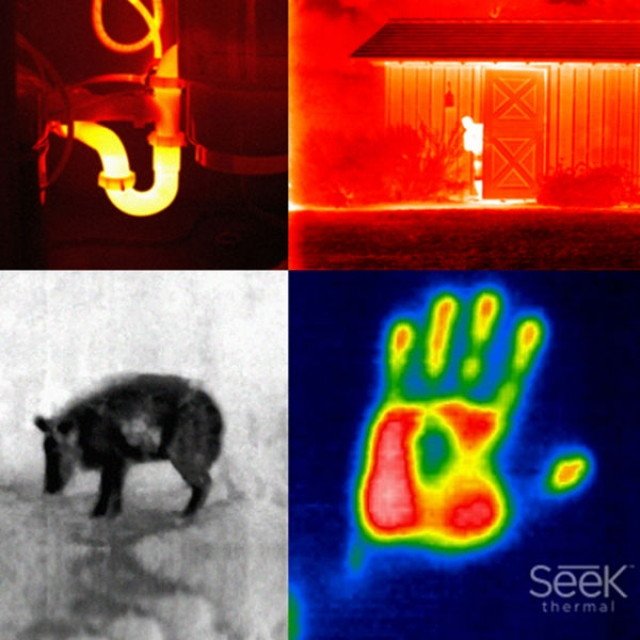 Photos taken by the camera from the series Reveal

What's in the set?
Seek Reveal XR 15 Hz

User manual

Leash

MicroSD Card

USB cable
Specification
Bolometric matrix: 206 x 156 px
Field of view: 20 °
Display: 2,4 ", color
Temperature range: -40 °C to 330 °C
Range: up to 275 m
The ability to save photos
Color: moro
Flashlight: 300 lm (adjustment of light intensity)
Rechargeable battery: 3.7 V lipol, operating time - up to 10 hours
Dimensions: 127 x 61 x 32 mm
Weight: 177 g